Hello all and welcome to our site! We are Tennessee natives who love to explore our home state every chance we get!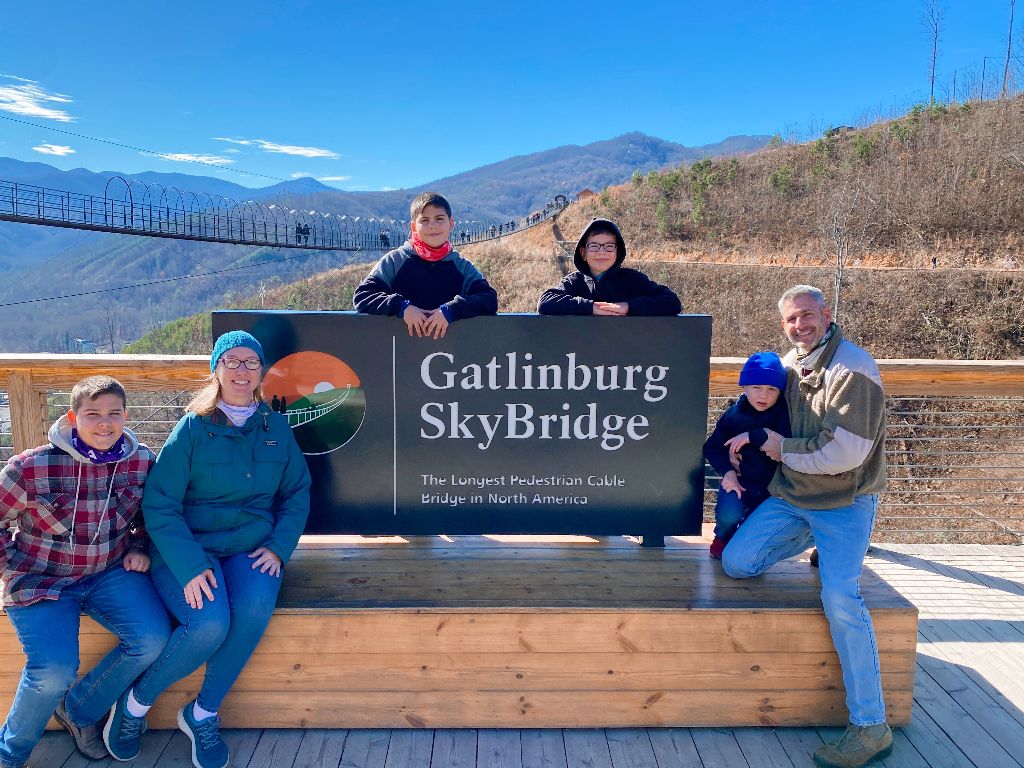 These are our four boys, who love our adventures just as much (or even more!) than Mom and Dad do!
This might be your ideal hangout if you:
Love Tennessee or the Smoky Mountains and are planning a visit here or come often and are looking for new and unique things to do and places to eat.
You dream of retiring to a mountain cabin in the woods somwhere in Tennessee.
You want to experience ALL that Tennessee has to offer!
Alright, so you've decided you're in the right place. Welcome! I'm Amanda and I blog here at Lil' Travel Folks with my lil' family of 6 (okay, so maybe not so lil'!).
Meet the family
Mom and Dad
I'm Amanda and this is my husband Brian – we've been married since 2003 and still love being together. He's a high school teacher and I was for 15 years but gave it up in 2021 to blog full-time (I run a crochet blog and teach blogging, too!).
_________________
The Kiddos
These are our four boys – all of their names begin with "C"! They all have such different personalities and interests and we are along for the ride.
The oldest: Very smart (skipped a grade in school!) and his huge talent is music. He got picked as the best 7th grade trumpet player in this part of the state! Wants to be a musician and pastor when he grows up.
_________________
Second-born: Also smart (math is his thing) and we are still trying to find out what his talent is. He's in karate and likes it okay. We've tried several sports but none stuck. He thinks he wants to be in the Army or become a marine biologist when he grows up. (His Dad was in the Army.)
_________________
Third-born: VERY creative, sometimes to the point it drives me crazy! lol! But I totally understand him because I'm also that way. Gets into everything (not in a mean-spirited way, he's just super curious). Always in a good mood. Wants to be an engineer when he grows up.
_________________
The youngest: So far the sweetest at this age. Loves to sing. His oldest brother drives him crazy wanting to love on him all the time and he doesn't want any part of it. Thinks he wants to be a builder or a police man or a teacher when he grows up. (He's still little!)
So this is our crazy family. Come along for the ride as we show you our favorite place in the world – the Smoky Mountains and our home state of TN!
Some of our favorites in the Smokies:
Gatlinburg Hotels with Indoor Water Park
We add new content all the time so check back often!
Be sure to follow us on Instagram to see what our family is up to!