Lil Travel Folks is supported by its readers. If you purchase through a link on my site, I may earn a commission. Learn more
Chattanooga, a picturesque city nestled in the mountains of Southeast Tennessee, has a rich history and a plethora of attractions that make it a must-visit destination.
As we explore what this charming city is known for, we'll dive into a fascinating blend of natural beauty, Civil War significance, and modern-day charm.
First on our list is Chattanooga's contribution to the music world – the famous 1941 hit song, "Chattanooga Choo Choo" by Glenn Miller and his orchestra, putting the city on the map for music enthusiasts worldwide.
Further cultivating its appeal, Chattanooga is also home to prestigious educational institutions, such as the University of Tennessee at Chattanooga and Chattanooga State Community College.
Naturally, we cannot ignore the city's pivotal role in American history, with the significant Battle of Chattanooga fought during the Civil War in 1863.
As we delve deeper into what makes this city stand out, we'll uncover even more reasons why Chattanooga has earned high praise from reputable publications like Lonely Planet and the New York Times.
So join us as we take you on a journey through the vibrant culture, history, and attractions that make Chattanooga truly unforgettable.
History of Chattanooga
Overview of the City's Historical Roots and Native American Heritage
Chattanooga, Tennessee, is a city with a rich history, located in the heart of the southeastern United States, near the Appalachian Mountains. Its location at the junction of four interstate highways in southeastern Tennessee has significantly impacted its development throughout the years.
Long before the arrival of European settlers, the Cherokee people had a strong presence in the region. In fact, Chattanooga gets its name from the Cherokee word "Tsatanugi," which means "rock coming to a point," referencing the nearby Lookout Mountain.
The Role of Chattanooga During the Civil War
Chattanooga played a critical role during the American Civil War, serving as a major battleground and transportation hub for the Confederacy. The city's railroads were vital in conveying raw materials to processing units, where small arms munitions were produced.
The Battle of Chattanooga occurred from November 23 to 25, 1863, and its outcome was decisive, with the Union claiming victory and taking control of the town. The Chickamauga & Chattanooga National Military Park, today, stands as a testament to the significant events that occurred in the area during that tumultuous time.
The Transformation of Chattanooga from Industrial Hub to Modern City
Following the Civil War, Chattanooga began to transition from a primarily agrarian society to an industrial hub. By the 1930s, the city had earned the nickname "Dynamo of Dixie," which later inspired the 1941 Glenn Miller big-band swing song "Chattanooga Choo Choo". The city's industrial growth was facilitated by its strategic location, abundant resources, and skilled workforce.
In the latter 1960s, Chattanooga became the first city in Tennessee to have a completed interstate highway system, further solidifying its status as a regional economic powerhouse.
In more recent years, the city has undergone a renaissance, with its downtown and riverfront areas experiencing a resurgence as vibrant, modern spaces for both residents and visitors alike. I remember Chattanooga being dirty and not very attractive when I was young, and I'm still amazed every time we visit how wonderful the downtown area is now.
Today, Chattanooga is an exciting blend of history, natural beauty, and urban development, making it a truly unique destination in the southeastern United States.
Iconic Landmarks
Chattanooga Choo Choo
As part of our journey, we explored the historic Chattanooga Choo Choo, which was once the Terminal Station for the Southern Railway. This iconic spot is named after the famous Glenn Miller song "Chattanooga Choo Choo" and has become a symbol of the city's history and heritage.
My sons love to stay at the Chattanooga Choo Choo, and have even stayed in a room that looks like a train car!
Lookout Mountain
One of the most breathtaking sites in Chattanooga is Lookout Mountain, which offers an unparalleled view of the surrounding area. The mountain is home to several attractions, such as:
Lookout Mountain Incline Railway: This steep railway takes visitors to the top of Lookout Mountain for a scenic view of the city below.
Point Park: The park is part of the Chickamauga & Chattanooga National Military Park, and commemorates the historic Battle of Chattanooga.
Ruby Falls
We also ventured to Ruby Falls, a stunning underground waterfall located within the depths of Lookout Mountain. The Falls are accessed through a guided tour that takes visitors through the winding caverns, culminating in a breathtaking view of the 145-foot waterfall.
I was pretty young when my parents took us on a trip to Ruby Falls, and I can still vividly remember the waterfall inside the cave. It's pretty amazing! We are taking our kids there this summer.
Rock City
Another must-visit spot on Lookout Mountain is Rock City Gardens, a unique geological formation with walking trails, ancient rock formations, and panoramic views. Some of the highlights at Rock City include:
Lover's Leap: A scenic overlook offering a stunning view of the surrounding area and the iconic "See Seven States" location.
Enchanted Trail: A winding path through the rock formations and lush gardens that make up Rock City.
This is another attraction that I vividly remember from my childhood, and if you have ever driven around Tennessee much, you're bound to notice red barns with "See Rock City" painted on the side!
Tennessee Aquarium
Finally, we couldn't miss visiting the Tennessee Aquarium, located in the downtown area. An important attraction of the "Scenic City", the Aquarium features various exhibits showcasing marine life from the Tennessee River and beyond, as well as various wildlife from around the world.
We love taking our kids to the aquarium, and it's really worth buying an annual pass if you are going to be in the area more than a couple of times. It's two separate buildings to wander through, includes a butterfly garden that is amazing to walk through, and has an IMAX theater.
Other noteworthy landmarks in Chattanooga include the Walnut Street Bridge, an important pedestrian connection in the downtown area, and the stunning Tennessee River Gorge, which showcases the natural beauty of the region. The city is also home to the Tennessee Valley Authority, a vital institution for the southeastern United States' energy infrastructure.
Outdoor Activities
As outdoor enthusiasts, we love to visit a city that caters to adventure seekers and nature lovers. Surrounded by mountains and sitting alongside the Tennessee River, Chattanooga boasts a variety of outdoor activities, from hiking and rock climbing to river rafting and more. In recent years, Chattanooga has gained a reputation as an outdoor adventure hub, and for good reason.
Popular Activities: Hiking, Rock Climbing, and River Rafting
Chattanooga offers stunning hiking trails that traverse lush forests, scenic waterfalls, and panoramic overlooks. The nearby Chattanooga National Military Park is not only a historical Civil War battleground but also provides picturesque surroundings for hikes and picnics.
For rock climbing enthusiasts, they have it all. Chattanooga is known for its numerous climbing sites that cater to both beginners and experts alike. From the famous Tennessee Wall to Raccoon Mountain Caverns, the city is dotted with thrilling climbing opportunities.
If you love being on the water, then be prepared to get your adrenaline pumping in Chattanooga. This city is home to several rivers, making it the perfect place for some exciting river rafting adventures. The Ocoee River, just an hour's drive from Chattanooga, is renowned for its world-class whitewater rafting.
Chattanooga Riverwalk
The Tennessee Riverpark is a pride of the city. It's a 13-mile paved Riverwalk that connects popular attractions, restaurants, parks, and riverboats while providing panoramic views of the Tennessee River. This Riverwalk has become a hub for both locals and tourists to enjoy leisurely strolls, bike rides, and picnics.
A must-visit spot along the Riverwalk is Coolidge Park (seen in the photo above), which offers ample green space, river views, and a vintage carousel, perfect for families and those wanting to take a break from their outdoor adventures. Additionally, the Chattanooga Market hosts local farmers, artisans, and live music every Sunday, making it an ideal weekend destination.
Notable outdoor activities and locations in Chattanooga include:
Hiking at the Chattanooga National Military Park
Rock climbing at Raccoon Mountain Caverns
River rafting on the Ocoee River
Strolling along the Tennessee Riverpark and Chattanooga Riverwalk
Relaxing in Coolidge Park
Enjoying local produce and culture at the Chattanooga Market
With such an extensive range of outdoor activities and beautiful locations, it's no wonder Chattanooga has made a name for itself as a premier destination for outdoor enthusiasts. We're lucky to call this city our home and look forward to sharing its natural beauty with all who visit!
Culture and Arts
Chattanooga's Vibrant Music Scene
In this city, they're proud of the vibrant music scene, which can be experienced throughout downtown Chattanooga. Some of the most popular venues for live music include the Tivoli Theatre and the Songbirds Guitar Museum. Every Friday night, the city comes alive with the sounds of local musicians performing in various bars, clubs, and outdoor spaces.
Hunter Museum of American Art
One of the leading establishments in Chattanooga's art scene is the Hunter Museum of American Art. This museum features an extensive collection of American art, from the Colonial period to present day. It's located in the Bluff View Art District, which boasts numerous galleries and emerging artists, further enriching the city's vibrant arts atmosphere.
Unique Festivals: Riverbend Festival and Nightfall Concert Series
In addition to our thriving music scene and prestigious art museum, Chattanooga is also known for its various unique festivals. The Riverbend Festival is an annual nine-day music festival held along the downtown Chattanooga riverfront. Another popular event is the Nightfall Concert Series, which features a mix of local and national musicians every Friday night during the summer months.
Creative Discovery Museum and Chattanooga Zoo
For families visiting our city, the Creative Discovery Museum is an exceptional destination offering interactive exhibits, hands-on activities, and educational programs for children of all ages. We had an amazing time here with our kids. Definitely worth a visit if you have kiddos!
The Chattanooga Zoo is another must-see attraction, showcasing a wide variety of animals and unique exhibits, making it a perfect destination for animal lovers and families.
Art and Sculptures around the city
Chattanooga is also home to many public art installations, like the Sculpture Fields at Montague Park, our fascinating sculpture garden. With over 50 large-scale sculptures spread across a 33-acre park, this park adds inspiration and beauty to our city's landscape. From downtown to the NorthShore and Southside districts, artistic expression can be found in every corner of our scenic southern city.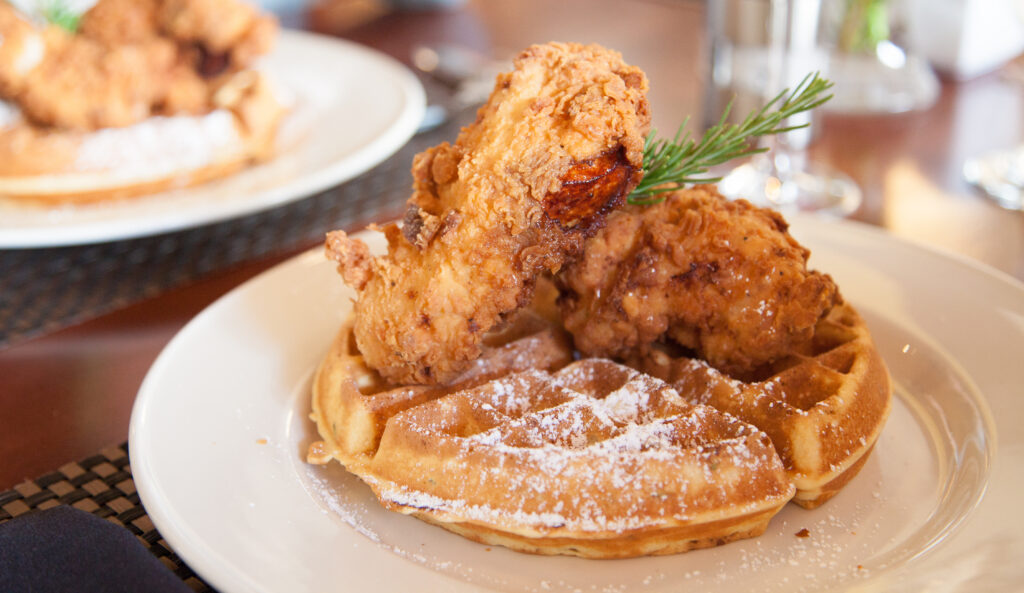 Southern Cuisine
Southern Cuisine and Its Influence in Chattanooga
Southern cuisine is deeply rooted in Chattanooga's culture, as it is a significant part of the city's culinary identity. Known for its rich, flavorful dishes, Southern cooking brings together ingredients and techniques from various cultures, with a strong emphasis on locally sourced produce and ingredients. Chattanoogans are proud of their authentic Southern dishes that embody both traditional and modern culinary influences.
Nestled along the Tennessee River Gorge, Chattanooga has a rich history and diverse culinary scene that showcases the true essence of Southern cuisine. The city's dining establishments range from casual eateries to upscale restaurants, all featuring dishes that celebrate Southern flavors and techniques.
Popular Local Dishes
Chattanooga is known for its delicious Southern dishes that are prepared with local ingredients. Some popular culinary delights include:
Chicken and Waffles: A classic Southern dish featuring crispy fried chicken and fluffy waffles, often topped with butter and syrup.
Smoked Beef Brisket Hash: A savory combination of tender smoked beef brisket, potatoes, and vegetables, typically cooked together in a cast-iron skillet.
Shrimp and Grits: A traditional Southern dish made with creamy, flavorful grits and succulent shrimp cooked in a spicy, savory sauce.
Popular Restaurants and Food Festivals in the City
Chattanooga is home to a multitude of popular restaurants that offer diverse dining experiences. Options such as Food Works and Public House are known for their delicious Southern dishes and dedication to quality ingredients sourced from local farms.
Additionally, the city hosts several food festivals throughout the year, celebrating the culinary delights of Chattanooga and the broader Southern region. Festivals such as the Chattanooga Market, held on Market Street downtown, highlight the city's thriving food scene and provide an opportunity for both locals and visitors to enjoy a variety of dishes and flavors.
Chattanooga Bakery, located on Main Street, is another must-visit destination for anyone with a sweet tooth. Known for their legendary MoonPies, this bakery has been producing the iconic Southern treat since 1917.
Moreover, the area surrounding the Tennessee River Gorge is a prime location for outdoor dining and picnicking, with breathtaking views of the river and surrounding mountains.
We highly recommend taking a culinary tour through the diverse restaurants and food events that Chattanooga has to offer to fully immerse yourself in the city's rich Southern cuisine culture.
Chattanooga also has a thriving craft brew scene – check out our guide to the breweries here!
Final Thoughts on What Chattanooga is Known For
Our visit to Chattanooga has been nothing short of fascinating. This diverse city has so much to offer, and we're confident that our findings will fascinate you too. After exploring the history, culture, and natural beauty, we've come to understand why Chattanooga has picked up several nicknames along the way.
First, let's talk about the Civil War history that was so prominent in Chattanooga. The Battle of Chattanooga was a decisive moment in American history, turning the tide in the Union's favor. The city's connection to these significant historical events definitely stands out and makes it an essential destination for history enthusiasts.
Moreover, Chattanooga's location in Southeast Tennessee near the border of Georgia at the junction of four interstate highways is notable. It has played a crucial role in the development and redevelopment of its riverfront and beautiful downtown area. The city's renaissance has been nationally recognized, attracting tourists from all around the country.
We can't ignore the unique architectural history of the city. The mystery of Chattanooga raising its downtown by a level adds to its allure. The foundations in this area tell an intriguing story about the city's determination to adapt and innovate.
Chattanooga also has a rich cultural scene, with a wide variety of offerings in food, art, music, and theater. The combination of top-notch attractions and the beautiful natural surroundings make Chattanooga a lovely city to explore.
In summary, our exploration of Chattanooga led us to appreciate the city's historical significance, innovative spirit, and cultural richness. We have unearthed so much about this dynamic city, but the real experience of Chattanooga can only be seized by visiting it!