Lil Travel Folks is supported by its readers. If you purchase through a link on my site, I may earn a commission. Learn more
If you're looking for an adventure, and you love the outdoors, then caves in Gatlinburg, Pigeon Forge and the surrounding areas are the perfect place for you to explore.
The best thing to do is go on one of these great cave tours, which feature special lighting effects and guides for a very enjoyable experience for the whole family. We love to take our kids to see the beauty of nature in the Smokies, and that includes underground!
So pack your flashlight and some snacks, and get ready to explore some of the best caves in Gatlinburg and the Smokies.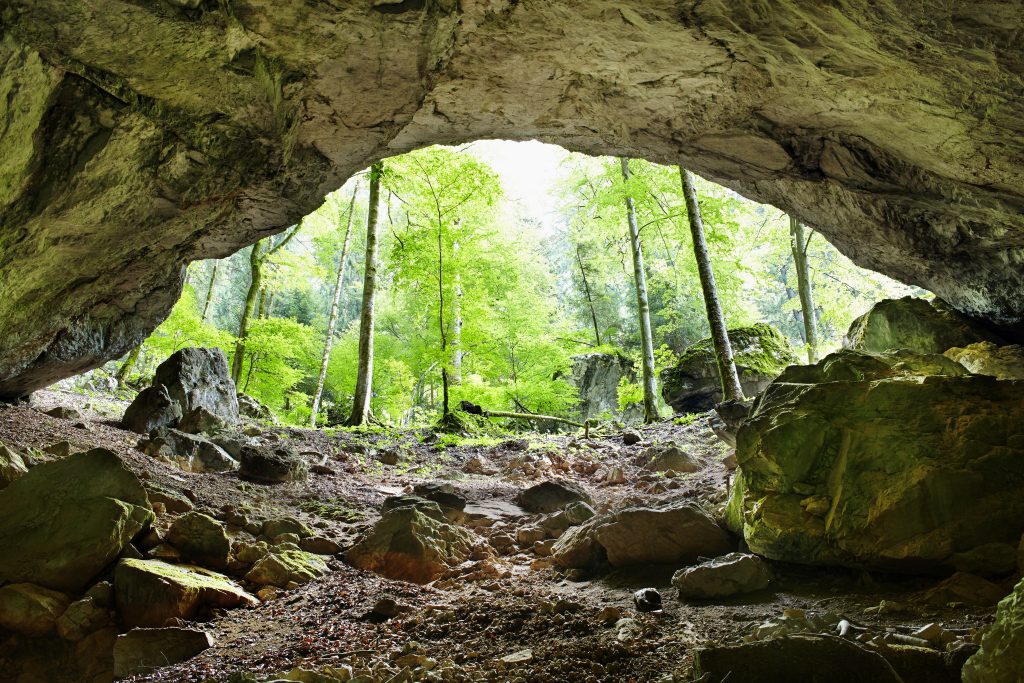 Why We Love Exploring Caves in Tennessee
Our kids love heading down into caves to see the wonders of nature, and Tennessee is a wonderful place to do it with more than 10,000 known caves. That's more than 20 percent of all known caves in the country!
In fact, Tennessee has more caves than any other state in the US. Tennessee is made up of a lot of limestone, and underground sources of water erode the minerals.
Most of the caves in the state are found in East Tennessee, with a lot of them just west of the Appalachain Mountains. It appears these caves were known to the Eastern Woodland Indians, where they would rest, take shelter from the elements of the summer heat or harsh winters, and enjoy the clean, clear waters inside these caves.
How Many Caves are Near Gatlinburg?
There are many smaller caves nearby that you are not allowed inside, many of which are in the Great Smoky Mountains National Park, but two major ones that are within easy driving distance of Gatlinburg.
There is also Alum Cave, a popular hiking destination that's not quite a "cave" in the true sense of the word, but is a bluff – an overhang of rock over 80 feet high! It's a resting point on the way to Mount Leconte and is a popular destination itself, with many hikers turning back after seeing this popular attraction. You can reach this bluff by following Alum Cave Trail.
These are the two major caves within a short drive from Gatlinburg that are definitely worth checking out. In these caves, you can see amazing rock formations, natural chimneys, walk past sparkling formations of mineral deposits, and even find a great reminder in the gift shop.
The Best Caves to Explore in Gatlinburg and the Smoky Mountains
Forbidden Caverns
If you've been out to the Smokies, you've probably seen signs advertising for Forbidden Caverns. This is a truly spectacular cave system that has guided tours most of the year.
Forbidden Caverns is open April 1-November 30 except for certain days. It is a constant 58 degrees year-round in the cavern, so you might want to bring along a light jacket, even if it is summertime in the South above you.
Here you will find friendly tour guides, interesting caves and underground caverns after your scenic drive to get here. It's named after an Old Indian legend of an Indian Princess. Definitely worth a couple hours of your vacation.
Be sure to check their website before planning a trip there to ensure they are open on the day you want to go. As of the time of this writing they are not allowing buses or scheduled group tours (which I kind of like because there won't be any field trips!).
Famous for: Cave onyx, which appears to drape over the stone walls or hang like fans from the ceiling of the cave. There is also an underground stream in this cave.
Location: 455 Blowing Cave Road, Sevierville
Common Questions about Forbidden Caverns
How long does it take to go through the Forbidden Caverns?
The guided tour is just under an hour at 55 minutes long. The largest group they take is about 30 people, and it is not recommened for those with respiratory or health issues that would make caving dangerous.
How much does it cost to go through Forbidden Caverns TN?
As of this writing, adult prices are $20 each and kids 5-12 are $12. If you have any kids younger than 5 they get to go through for free! You can't get advance or online tickets, so you'll have to purchase these when you get there.
Learn more about Forbidden Caverns here
_________________
Tuckaleechee Caverns
Tuckaleechee Caverns in nearby Townsend, TN is another popular cave destination. It's known as the "Greatest Site Under the Smokies" and has been awarded AAA's Exclusive "Five Star Attraction" rating for its spectacular caverns, an enormous room big enough to hold a football field, a beautiful underground waterfall and a crystal clear underground river.
This cave is open from March 1-November 30 and offers some super spectacular views. There is the "Big Room" which could hold an entire football stadium (400 feet by 300 feet and 150 feet high!) and the 210-Silver Falls, the tallest subterranean waterfall in the Easter US.
You can also see 24-foot stalagmites and a crystal clear cave river in this one-hour tour. It's definitely one you don't want to miss!
Location: 825 Cavern Road, Townsend
Common Questions about Tuckaleechee Caverns
How long does it take to go through Tuckaleechee Caverns?
Tours take roughly an hour to an hour and a half, covering around a mile and a quarter. The temperature inside the cavern is 58 degrees year round, so bring a light jacket even if it's hot on the outside of the cave.
How much does it cost to get into Tuckaleechee Caverns?
As of the time of this writing, adults can get a ticket for $22 and kids 5-11 cost $10. Kids under 5 are free!
Learn more about Tuckaleechee Caverns here
_________________
Tips for Exploring Caves Safely
Caves are a great adventure for the whole family, but there are some things you need to know before heading underground. Here are a few tips:
1. Always bring a flashlight or headlamp, even if the cave is lit. You never know when you might need it, and it's better to have it and not need it than to need it and not have it.
2. Wear good shoes with good traction, such as hiking boots. Caves can be slippery, and you don't want to risk a fall.
3. Stay on the path. Cave floors can be unstable, and you don't want to accidentally fall.
4. Don't touch anything. Caves are delicate ecosystems, and you can unintentionally damage them by touching things. Plus, some cave creatures might not be as harmless as you think.
5. Watch out for bats. Bats are common in caves, and while they're not typically dangerous, you don't want to startle them. Make sure to stay aware of your surroundings and watch for them.
6. Stay with your group. With these caves, you'll have a tour guide, so keep up and you won't get lost inside the cave.
Now that you know a little more about caves, it's time to start planning your trip. Gatlinburg and the Smokies offer plenty of opportunities to explore these underground wonders, so get out there and start adventuring!
Why Caving is a Great Activity for Families
Caving is a great activity for families because it's fun, adventurous, and educational. Plus, it's a great way to bond with your kids and teach them about nature and science. Here are a few more reasons why caving is a great activity for families:
1. It's active. Caving is a great way to get kids moving and exploring. It's also a great way to burn off some energy and explore the great outdoors.
2. It's educational. Caving is a great opportunity to teach kids about geology, biology, and ecology. They'll learn about different rocks and minerals, as well as the animals that live in caves. Plus, they'll get to see firsthand how important it is to protect these delicate ecosystems.
3. It's adventurous. Caving is an adventure that the whole family can enjoy. Kids will love exploring the dark tunnels and discovering all the hidden nooks and crannies of the cave. Plus, it's a great way to make lifelong memories.
So what are you waiting for? Get out there and start exploring the best caves in Gatlinburg and the Smokies!
Looking for other Smoky Mountain Adventures? Check them out here!
Happy Caving!
Amanda