Lil Travel Folks is supported by its readers. If you purchase through a link on my site, I may earn a commission. Learn more
Gatlinburg in February isn't as exciting as visiting during the summer or when the fall leaves change their color, but it's a wonderful quiet winter getaway and also wonderful for sweetheart month. It's a fun place that our whole family enjoys any time of year, but in February it can really be a winter wonderland, as this is a prime month for snow in the Smokies – and cabins are a super special way to spend Valentine's Day!
While many businesses have scaled back their hours or closed down completely due to the colder weather, there are still plenty of things to do in town. In this post, we'll show you the best things to do in Gatlinburg in February, as well as some tips for making the most of your trip.
Overview of Gatlinburg in the Winter
One of the best things about visiting Gatlinburg in February is that you have a chance to see snowfall. The Smoky Mountains are known for their breathtaking views, and they're even more beautiful when they're blanketed in snow. January averages the most inches of snowfall, with 4, but the month of February comes in second with 2.
You might be surprised that this mountain area doesn't get much snow, but you're far more likely to see snow in the higher elevations than in Gatlinburg itself.
Of course, with the colder weather comes shorter days, so you'll want to make sure to plan your activities accordingly. Many attractions and restaurants in Gatlinburg close early during the winter months, so it's important to check operating hours before you go. This is especially true in January and February, as things start to reopen around the middle of March.
Weather for Gatlinburg in February
The average temperature in the daytime for Gatlinburg is around 53 in February (that's the average high temp), but it's not uncommon to see snow at this time of year because the average low temperature is around 29 degrees F.
So while there might not be winter weather in Gatlinburg itself because it's in the lower elevations, there is a good chance of seeing some if the weather gets cold enough, especially as the night time temperatures dip down lower.
The average snowfall for February in Gatlinburg is around 2 inches of snow, but it also has a lot of rainy days this month, so be prepared for wet weather. (Average rainfall of 9 days for Feb.) February is also the windiest month in the area, with average wind speed of 12.1 mph.
Attractions that are Closed in February in the Smokies
If you have your heart set on one of these attractions, don't plan your vacation at this time of year because they will be closed.
Dollywood – Dollywood theme park in Pigeon Forge closes just after New Year's weekend and does not reopen until mid-March. This is one of the area's major attractions and it draws huge crowds, and its closure is one of the reason the Smokies are less crowded this time of year.
Clingman's Dome – This popular hike and observation tower closes to road traffic from December 1 until March 31. When we went in October there was a 20 degree temperature drop from Gatlinburg to this elevation, and there was ice even then! I can't imagine how cold it would be in February!
Arts and Crafts Community – while this doesn't officially close for February, if you do a search you'll see that many of the artisans aren't open this month. If you have some you were really hoping to visit, check out their individual websites or give them a call to see if they are open.
What to do in Gatlinburg in February
Visit Anakeesta
Anakeesta is one of the newer attractions in Gatlinburg, and this fun family park is right in the heart of Gatlinburg. You pay for admission in town, then ride either a Chondola or Ridge Rambler up to Firefly Village where you can shop, eat and take in the amazing Smoky Mountain views.
Anakeesta is open year-round, so you never have to worry about it closing down for the season. Usually for the first part of February they are still running their Enchanted Winter event that includes light displays, beautiful sights of the Smokies and special treats like hot chocolate.
Take a walk on the Treetop Skywalk or take in the beautiful scenery from AnaVista Tower, the tallest point in Gatlinburg. You can see peaks as far away as Kentucky! Work your way through TreeVista or take a stroll through Vista Gardens. There's a lot to do at Anakeesta!
Location: 576 Parkway, Gatlinburg
Learn more about Anakeesta here
_________________
Visit the Ripley's Aquarium of the Smokies
Ripley's Aquarium is one of the most popular attractions in Gatlinburg, and for good reason. This is one of the top aquariums and is home to over 10,000 animals and 350 individual species, including sharks, rays, penguins, eels and more. They even have several interactive exhibits and a large indoor play structure our kids enjoy when it's cold out.
The aquarium offers several different ways to experience the underwater world, from behind-the-scenes tours to hands-on animal encounters. You can even feed the stingrays (for a small fee)!
Location: 88 River Rd, Gatlinburg
Learn more about Ripley's Aquarium of the Smokies here
_________________
Enjoy Winter Sports at Ober Gatlinburg
Take the Ober Gatlinburg aerial tramway for winter sports. The tram is a wonderful experience all on its own! This is Tennessee's only ski resort, and there are hills for all skill levels. February is a wonderful time for skiing in the Smokies. (Note that you can also drive up to Ober Gatlinburg, you do not have to take the tram, it's just really neat.)
The ski season begins early to mid-December and runs through about mid-March, so February is prime time for snow activities. So hit the ski slopes or go snow tubing, or even just ride the scenic chairlift.
Ober Gatlinburg is an amusement park and ski resort all in one. In the winter season, you can enjoy skiing, snowboarding and snow tubing. Other outdoor activities include a Ski Mountain Coaster, Scenic Chair Lift and Wildlife Adventure. Inside, there's also an ice skating rink, arcade and shopping, so there is lots to do here with your family or just a sweetheart.
Location: 1339 Ski Mountain Rd, Gatlinburg
Learn more about Ober Gatlinburg here
_________________
Ride an Alpine Coaster
There are many great alpine coasters in the Smoky Mountains. An alpine coaster is like a roller coaster, but you ride in your own little car down the mountain. It's a lot of fun!
The Moonshine Mountain Coaster is one of the most popular in the area. You can control your speed as you zoom down the track, and there are great views of Gatlinburg and the Smoky Mountains. There are also other wonderful alpine coasters in the area.
Location: 306 Parkway, Gatlinburg for the Moonshine Mountain Coaster
Learn more about the Gatlinburg Mountain Coaster here
_________________
Visit the Great Smoky Mountains National Park
February is a great time to visit the Great Smoky Mountains National Park. The park is open year-round, and there are many different activities to enjoy in the winter. You can go on a winter hike or go camping, picnicking, fishing, horseback riding and more.
Please note that some roads in the park may be closed due to weather conditions, so be sure to check the road closures before you go. You can also stop by a visitor center to get more information about what to do in the park. Some of the popular sights are Laurel Falls, the Gatlinburg Trail (an easy hike), Abrams Falls, Little River Trail, Alum Cave Trail and Cades Cove.
I would suggest the lower elevation hikes and waterfalls if you are looking for an outdoor adventure because they are more likely to be accessible and open. Some of the waterfalls get some truly impressive ice! (Learn more about Gatlinburg waterfalls here)
Location: Great Smoky Mountains National Park
Learn more about the Great Smoky Mountains National Park here
_________________
Explore Downtown Gatlinburg
Downtown Gatlinburg is a very popular destination and usually packed with tourists, but in February you can enjoy the attractions and shops with fewer people around. This is a great time to explore all that the Gatlinburg Parkway has to offer!
There are many different shops, restaurants and attractions in downtown Gatlinburg. You can find everything from souvenirs to clothing to art. There are also a lot of great places to eat, ranging from fast food to fine dining. And, of course, there are plenty of attractions like Ripley's Aquarium, the Gatlinburg Space Needle and Ober Gatlinburg.
This is one thing I used to love to do when I was younger, before we had kids. We rarely visit downtown Gatlinburg with the boys because we have so many other activities on our itinerary, but when the hubs and I went by ourselves we loved to stroll the shops and eat downtown.
Location: Downtown Gatlinburg
Learn more about downtown Gatlinburg here
_________________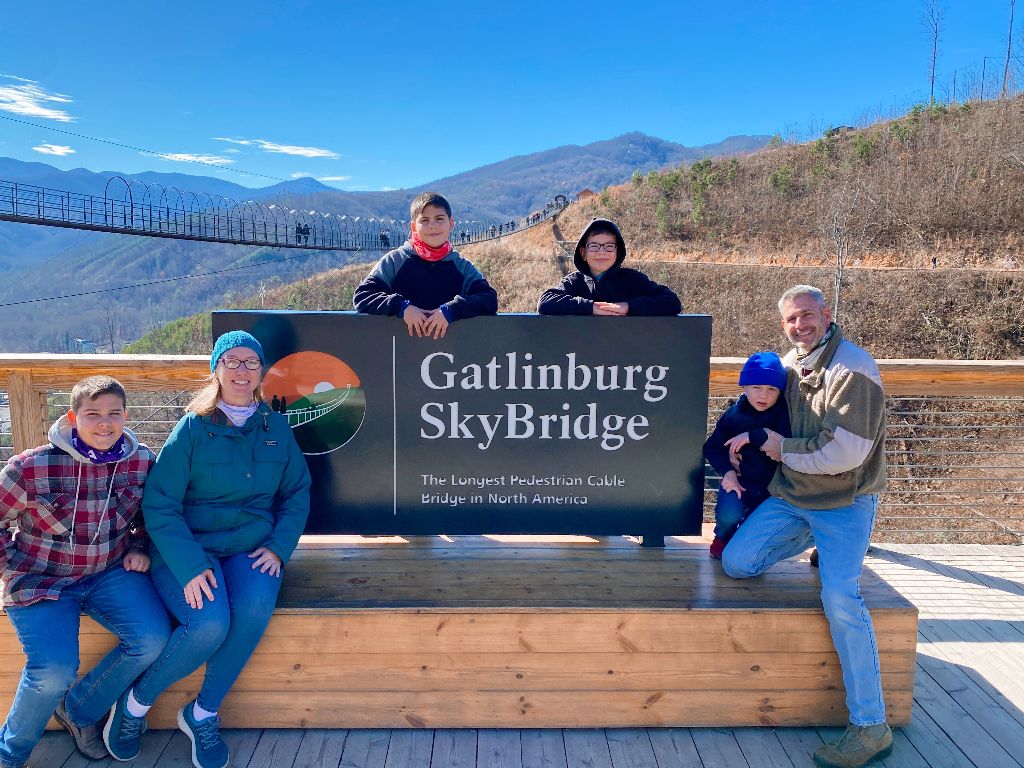 Gatlinburg Skylift Park
We recently did the park and Gatlinburg Skybridge in November 2022 when it was cold out and we still had an amazing time. We just bundled up, especially for the night ride! This attraction has been part of Gatlinburg's beautiful landscape since the 1950's (although there is a new chairlift since 2017) and it offers some amazing views of the city and surrounding mountains.
Up at the top of the Skylift you will find fires blazing on a winter day (these were so welcome when we went!) as well as a shop, the Skylift Train and of course the famous Skybridge. We only bought one time passes but quickly upgraded to unlimited for the day because the boys wanted to ride again that day and once at night as well. While it was cold after dark, the view of the winterfest lights was totally worth it!
Also note that you can skip the line in town if you buy your passes online!!
Location: 765 Parkway, downtown Gatlinburg
Learn more about Skylift Park and buy passes here
_________________
Tips for Visiting Gatlinburg in February
Dress in layers: The weather in Gatlinburg can be unpredictable, so it's always a good idea to dress in layers. That way, you can easily add or remove clothing as needed to stay comfortable. Bringing a waterproof layer is also recommended thanks to the number of wet weather days this time of year. You just never know what the weather will be!
Bring a camera: The Smoky Mountains are especially beautiful in the winter, so make sure to bring a camera to capture all the stunning scenery, especially if you are lucky enough to catch a snowy day.
Check operating hours: As we mentioned before, many businesses in Gatlinburg have reduced hours during the winter months. To avoid disappointment, be sure to check the operating hours of any places you want to visit before you go.
Consider a four wheel drive: A lot of cabins have steep drives and roads, and we ended up with a super steep driveway to our cabin one year with a two wheel drive truck. It was a scary drive down the mountain on the day we had to check out! Check the weather forecast for the time of your stay to see if this might be a problem.
Stock up on groceries in case you get snowed in: It's always a possibility that you might get snowed in when you visit at this time of year, so have some extra food on hand just in case because those tiny mountain roads and driveways do not get cleared when it snows.
Where to stay in Gatlinburg in February
One of the best reasons to come during the winter months is to save money on cabins and other rentals, unless you are coming around the Valentine holiday. Of course, Gatlinburg is a popular place for Valentine's and cabins for two with jacuzzis are super popular around the 14th, so if you are coming for this holiday you will want to book early.
There are many great hotels in downtown Gatlinburg and the surrounding areas, and you can also book a cozy cabin in the area and just get away from it all and enjoy the beauty of the Smokies in the winter.
If we do pick a hotel for our stay, we love to choose one that has a daily complimentary breakfast to help offset vacation costs for our family of six. We also look for an indoor pool for something else for the kids to do. (Although the last time we went in December we had to walk outside from the pool to our room and it was soooo cold!)
If we rent a cabin, we do breakfast in the cabin most of the time as they usually have a full kitchen or at least a kitchenette so you can easily whip up a quick breakfast and not break the bank.
Romantic Places for 2 in Gatlinburg
Take Me Away Cabin
This is a paradise for 2 with a hot tub, cathedral ceilings, 6-foot picture windows, large covered deck, full kitchen and spacious master suite plus lots more. It's only 5 minutes to downtown Gatlinburg or 10 minutes to the city of Pigeon Forge.
Learn more about Take Me Away here
Bearly Naked Cabin
This is another wonderful retreat for 2. It features a jetted tub in the master suite, a very private location, pool table, cathedral ceilings, full kitchen, washer/dryer and much more. This is also a quick 5 minute drive to Gatlinburg.
Learn more about Bearly Naked here
View more romantic cabin getaways here
There are also lots of wonderful hotels, many with free breakfasts, that you can check out here
What to eat and drink in Gatlinburg in February
There are so many wonderful things to eat and drink in this quaint little village town.
Here are some of our favorites:
That's by no means an exhaustive list, but we're trying to keep it short here.
You can also check out the best bakeries in Gatlinburg and the best ice cream in Gatlinburg!
Final Thoughts
Gatlinburg is a beautiful place to take a winter vacation or relaxing couple's retreat, and there are still plenty of things to do even though some businesses have reduced hours or are closed for the season. It's really an affordable time of year to go (although cabins can get pricey around Valentine's Day), so if you want to experience Gatlinburg winter magic, this is the perfect time.
Be sure to dress in layers, bring a camera and check operating hours before you go. And if you're planning on staying in a cabin, consider a four wheel drive vehicle to make getting around easier.
Most importantly, have fun and enjoy all that Gatlinburg has to offer! It's our favorite place to be!