Lil Travel Folks is supported by its readers. If you purchase through a link on my site, I may earn a commission. Learn more
Dollywood is a popular theme park in Pigeon Forge, TN that is one of the most popular attractions in the area. Wondering when is the best time to visit Dollywood?
Our family visits Dollywood several times most every year, so we've seen all the seasons at the park, and today we are here to help you choose the best time to visit Dollywood for you and your family!
It really depends upon what you want to do and see, how much you care if the park is busy or not and your kids' school schedule (if you have kiddos, that is!).
So come along with us as we share tips, tricks and pics from our many trips to the park to help you pick the best time for your Dollywood vacation.
Weekdays are going to be less crowded than weekends, and rainy days are often good to visit the park (if the rain is on and off, not a downpour or lightning). If you want to avoid long lines, these are the best days.
If You're Coming for the Rides…
Dollywood has some of the best rides in Tennessee, and if that's your main reason for visiting, you'll want to come on a weekday during the school year. All the kiddos will be in school, so the lines for rides will be shorter.
If you're bringing your kids like we do, we have found that the first week of June is an amazing time to go. Our school is out, but other schools are still in and a lot of people aren't traveling quite yet for the summer, so you can do all the rides without terribly long lines and not miss any school. If you live somewhere that goes to school into June, try August, when TN schools are back in session.
You can also come early in the morning any day of the week and hit the big rides right when the park opens. We like to get there about 30 minutes before opening because they will let you in the gate and quite a ways into the park before it officially opens. There's not much traffic going in then and it's really a best time to visit Dollywood trick.
Of course, the rides don't start going until opening time, but you will be right at the front of the line, and it takes a little bit for the park to get busy.
Insider's Tips:
The rides that get the busiest are the roller coasters such as the Lightning Rod, Firechaser Express and the Mystery Mine, so try to ride these while the lines are shorter.
Surprisingly the line for the Wild Eagle is usually not too bad any time of year, but I suggest downloading the Dollywood App while you're in the park because it has current wait times so you can plan your ride schedule.
There are a ton of kid's rides at Dollywood. Check out the best rides for toddlers here.
If You Want to See a Show…
Dollywood is famous for its live musical entertainment, and there is a show for everyone in your family. You'll want to come on a weekday and get there early for a good seat, but even if you come on a busier day you can usually find a place to sit if you get there a bit early.
Or if you don't mind waiting in line a little bit, you can always come later in the day and see one of the evening performances. The later shows are usually less crowded.
All throughout the park you will also find live music, from banjo players to quartets. It's great to just stop and listen.
Insider's Tips:
If you're interested in wildlife, make sure you visit the Wings of America show, where you can see real birds of prey and learn more about America's species. This show is great for both kids and adults.
You can also find all the showtimes on the Dollywood App, so another plus if you are there and want to easily find out what's going on in the park.
If you have kids, make sure to go by the carousel where you will find the Imagination Playhouse. We went for years without knowing about this because I never saw it on the app! Here they put on 20-minute performances for some of the favorite books that Dolly sends in her Imagination Library (we saw Violet the Pilot).
If You're There for the Food…
Believe it or not, people come to Dollywood for the food, too! You'll find everything from funnel cakes and cotton candy to smoked meats and delicious pizza.
No matter what time of year you come, there will always be something special going on culinary-wise at Dollywood. In the spring, you can catch the Dollywood Flower and Food Festival, in fall there is the Harvest Festival and for the Christmas season you can view the Smoky Mountain Christmas.
One of the most famous foods at the park is the cinnamon bread that you can find at the Grist Mill (and now also at the Spotlight Bakery). We've seriously waited in line for an hour just to taste this amazing treat! We get some every time we go. It's a nonnegotiable.
If you're looking for an awesome restaurant, try Aunt Granny's for a family style, all you can eat feast. We visit Red's Drive In a lot for their burgers and decently priced kid's meals. You can check out the Best Food in Dollywood here.
Insider's Tips:
If you want to try a bunch of different foods, make sure to come during the spring when the Flower and Food Festival is going on. You can get a festival pass to try some of the amazing fare that is available only for the festival.
If you're into fall and harvest foods, go during September and October when the Harvest Festival is going on. There are special offerings throughout the park and also craftsmen from all over the country come to participate, so you can find unique items like sorghum suckers and other unusual items.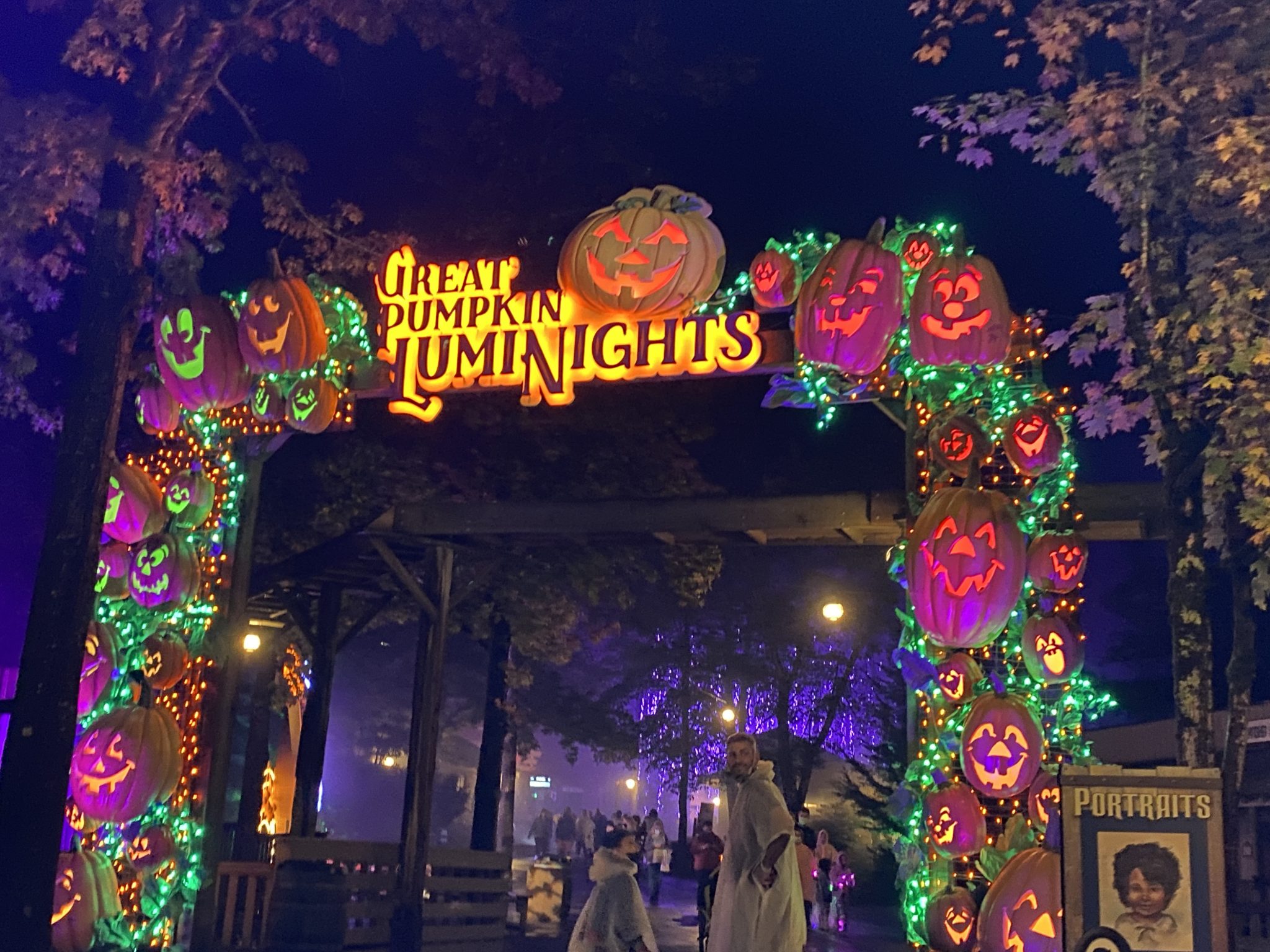 If You Want to See a Festival or Event
This is one of the big draws to the park – the festivals!! There are many to choose from, and we've been to them all so let's take a look at some of the biggest ones at Dollywood.
Insider's Tip: Dollywood theme park is NOT open from January to mid-March, so please don't plan a trip to this are to visit then! This is the winter season when it's most likely to snow in Tennessee and a lot of the rides cannot operate below freezing, so the entire park closes. (Plus, who wants to walk around when it's that cold??)
See the Dollywood operating schedule here for 2022.
Spring: Flower and Food Festival (Early April – First Week of June)
This event is one of the most popular at the park, but if you come before schools let out you can have a wonderful time without a lot of crowds. The last time we visited this festival was June 2022 on the last week of the festival. It was the best time to visit Dollywood for us because it wasn't too busy but it was warm enough to do water rides.
You can find millions of flowers and mosaicultures all through the park, and take your picture under the umbrella sky.
See live musicians and entertainers all throughout the park such as the Bloom! performers, who put on a wonderful sway pole show. We'd never seen anything like it.
Finally, be sure to taste the unique culinary offerings. Some of the foods available while we were there this year were Street Corn Salad, Spicy Korean BBQ Meatballs, Boba Teas, different macaroni and cheese varieties and a whole lot more.
Summer: Smoky Mountain Summer Celebration (Third week of June-First Week of August)
If you want to see this festival during the summer months, I'd recommend going in June because July is one of the busiest months in the Great Smoky Mountains.
The Smoky Mountain Summer Celebration is a newer festival that includes a really neat Sweet Summer Nights Drone and Fireworks Show.
While you're there in the summer, be sure to visit the Gazillion Bubble Show, a unique show with millions, billions and gazillions of bubbles that envelop the entire theater! Kids and adults alike will love it.
Since it does get pretty hot in the summer, take advantage of the splash pads and water rides at the park. There are only two main water rides: the Smoky Mountain River Rampage and Daredevil Falls. You can also visit Dollywood Splash Country from mid-May to Labor Day to cool off. It's a 35-acre water park that's also super fun.
Learn more about the park's water rides here.
In the summer, we've found that the crowds really thin out around late afternoon, as people have had enough of the heat and leave for dinner. We often will stay until closing time because the crowds have thinned out so much. We have a fun time as the weather cools off at the Smoky Mountain theme park.
Fall: Harvest Festival and Great Pumpkin Luminights (Third Week of September-End of October)
This is one of our favorite times to visit Dollywood! It's not too crowded during the week and the weather is perfect, but do keep in mind that October is a busy month for visitors coming to see the fall foliage.
The festival runs from late September almost to Halloween, but the park closes for a week after this festival to decorate for Christmas, so don't plan on any Halloween activities here (but you can find lots of things to do in Gatlinburg for Halloween!).
During the festival, there are all sorts of fall foods available such as roasted nuts, kettle corn, pumpkin pie, and more.
You can also find unique items for sale such as sorghum suckers and other fall treats.
Finally, don't miss the Great Pumpkin Luminights. This is a really neat light show that happens every evening during the festival. It's a great way to end the day at Dollywood!
There are thousands of carved pumpkins throughout the park as well as pumpkin sculptures that light up – we love it so much and go almost every year.
Insider's Tip: The park is not open every day of the week during this festival (it's usually closed on Tuesdays and sometimes other days), so be sure to check the park calendar to ensure it's open on the days you plan to attend.
Holidays: Smoky Mountain Christmas (Early November-New Year's Weekend)
Another super popular time to visit is during Christmas and the entire holiday season! If you want to see the lights during nighttime hours, I'd recommend going early in November before the crowds really start picking up. It's still Christmastime, but you'll be able to enjoy the lights without large crowds.
Dollywood goes all out for Christmas with millions of lights, live shows, Santa meet-and-greets, and more.
In 2021 we spent the entire week before Christmas here, not heading home until Christmas Eve (the park is closed on the 24th and 25th). It was so much fun, and a bit crowded, but worth it.
One of the best parts about visiting during Christmas time is all of the wonderful holiday foods available. Be sure to try the cinnamon bread, it's amazing!
You can also find unique gifts for sale such as hand-blown glass ornaments and other Smoky Mountain souvenirs.
All the rides are open unless the temperatures dip too low. You can read more about riding the Dollywood rides at Christmas here.
so when is the best time to visit dollywood?
No matter what your reason is for visiting Dollywood, there is a time of year that is perfect for you! Be sure to check out the park's calendar before you go so you can plan your trip around the events and festivals taking place during your visit. Our entire family always has a great time no matter when we visit.
There really is no "perfect time" to go because it depends on what you want to do, so try to plan your visit based on what is most important to you. That is really the best time to visit Dollywood – for you!
If you want to see it all, skip the Dollywood tickets and get a season pass. For the price of visiting just a couple of times you can go again and again all year! If you get a gold pass you also get free parking, which saves a lot. Parking was $25 last time we were there! It's the best deal.
You can also stay and play with Dollywood's Dreammore Resort. They have some great deals.
Whether you go for the festivals, the amazing rides, the food or the shows, you're bound to have a wonderful time at our favorite place in the world! Enjoy your Dollywood experience at the friendliest park we've ever seen.
So, now that you know that anytime is the best time to visit Dollywood, what are you waiting for? Plan a visit today and you'll make memories that last a lifetime.
Happy Vacationing!
Amanda