Lil Travel Folks is supported by its readers. If you purchase through a link on my site, I may earn a commission. Learn more
There's no better way to start your day than with a delicious breakfast, and Gatlinburg has plenty of great options to choose from. From traditional pancake houses to barbecue joints with amazing smoked breakfast meats, there's something for everyone in this Tennessee town.
So if you're looking for a fantastic breakfast experience, be sure to check out this list of the best places – the hardest part is choosing one!
In this article we will share with you our favorite breakfast spots, what you can expect to find on the menu, where to find the restaurant (most of them are in downtown Gatlinburg, with a couple off the beaten trail), and any allergen information. We have a son with a dairy allergy so we are always looking at allergen info!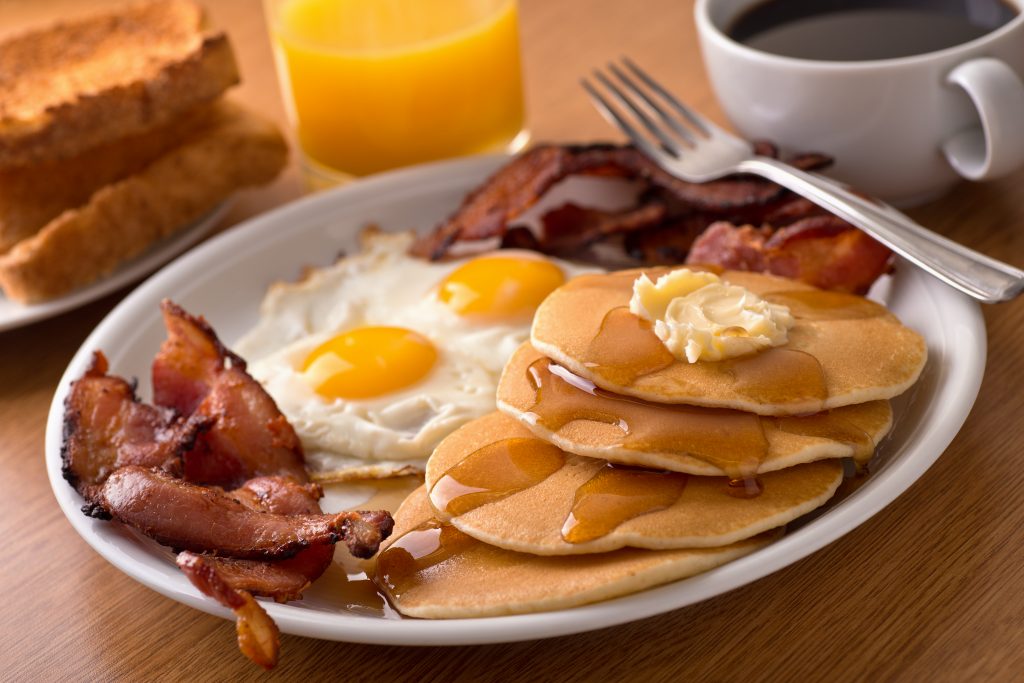 Best Pancake Restaurants in Gatlinburg
We tried to break it down into our favorites by the type of breakfast restaurants, but Gatlinburg is so well known for its pancake places that we had to put three on our list of favorites – and they are all worth a visit! All of these serve the traditional buttermilk pancakes and they also each have their own spin on the best pancakes.
Pancake Pantry
The Pancake Pantry has been serving up the most amazing fluffy pancakes since 1960, so you know they're good! The atmosphere at this restaurant is amazing, too, and it's always busy – so come early or be prepared to wait.
On the Menu: Pancakes galore including wild blueberry pancakes, sweet potato and other specialty pancakes, but also crepes, waffles, eggs, omelets, and a lunch menu, too! They have great kid's meals as well, including different types of pancakes, french toast and our favorite "children's special" with four mini pancakes along with an egg and bacon. Yum!
Allergen Info: If you have allergies, you'll have to skip all the pancakes, unfortunately. They all have dairy and wheat. We get our dairy-free son bacon and eggs with toast and jelly when he goes with us. Please ask before ordering if you have specific allergies.
Location: 628 Parkway
Learn more about the Pancake Pantry here
Log Cabin Pancake House
This restaurant has been family owned and operated since 1976, so it's another pancake house that's stood the test of time. They serve their breakfast menu all day and have free parking behind the restaurant.
On the Menu: A variety of pancakes including butterscotch chip, Caribbean, chocolate chip or white chocolate chip pancakes, also crepes, french toast, traditional breakfast egg and meat dishes, biscuits, waffles, sandwiches and other lunch items. Their kids menu is for 8 and older and has a few options.
Allergen Info: No gluten free or dairy free pancake options. Again, get eggs with bacon, sausage or ham. The "No Pancakes Special" is a good option with eggs and meat, grits or hash browns and toast (no biscuits). Please ask before ordering if you have specific allergies.
Location: 327 Historic Nature Trail
Learn more about the Log Cabin Pancake House here
Flapjack's Pancake Cabin
This restaurant has seven locations, with three in Gatlinburg alone! Yes, it's that popular. It began in 2001 as one pancake cabin and quickly spread to the two more in town. If you're a lover of pancakes you need to try Flapjack's for sure!
On the Menu: The best sticky bun pancakes, pecan pancakes, and Reese's peanut butter pancakes you've ever had! You can also get Elkmont Egg Platters, omelets, waffles, and the most delicious skillets and breakfast classics you've ever seen. The kid's menu offers several styles of pancakes including an adorable bear shaped pancake plate, french toast or a kid's breakfast plate.
Allergen Info: If you want gluten free pancakes or waffles, this is the place to go!! Read about their gluten free pancakes here. If you have another food allergy, ask to see their allergen menu and they can provide that. There are no dairy free pancakes or waffles, so a skillet or egg platter is your best option there.
Location: 146 Parkway, 956 Parkway, and 478 E. Parkway, Hwy 321 (these are all in Gatlinburg, and they also have Pigeon Forge, Sevierville and more locations)
Learn more about Flapjacks Pancake Cabin Restaurants here
Best Donuts in Gatlinburg
Donut Friar
The Donut Friar has been frying up amazing donuts since 1969. This is the only donut shop that made our list because it is by far the best one in town! A quick, hot donut is one of our breakfast favorites because we are on the go when we are in town and don't often sit down to eat a big meal at breakfast time, although usually on the morning we are headed home we will do that. (Plus donuts are a great price when you have a lot of mouths to feed!)
On the Menu: Fresh donuts made in house, like glazed, eclairs, filled donuts, giant cinnamon rolls and amazing cinnamon bread. They also have some of the best coffee in Gatlinburg, and they made our list there, too!
Allergen Info: No allergy options are here that I'm aware of. We tend to go when my hubs and I are on a special trip.
Location: 634 Parkway #15 in the Village Shops
Learn more about the Donut Friar here
Best Coffee and Pastries in Gatlinburg
Now, we have an entire post dedicated to the Best Coffee in Gatlinburg, but only one spot made this list because they are both a coffee shop and a bakery, although the coffee at the Donut Friar is also great.
Gatlinburg Grind
This is the cutest little shop in town! They have some of the best specialty coffee drinks you'll ever try, plus their pastries are out of this world.
On the Menu: Bagels, pastries, coffee cake and even wedding cakes are made here! Plus you'll find espresso, cold brews, a hot chocolate bar and a lot more.
Allergen Info: Most (if not all) things have gluten and dairy.
Location: 680 Glades Rd, Suite 3
Learn more about Gatlinburg Grind here
Best Breakfast Food in Gatlinburg
Crockett's Breakfast Camp
This Appalachian-inspired breakfast restaurant never disappoints, and they have some of the best bacon, sausage and country ham with fresh eggs that you can find in the Smokies. Add the delicious food to the quaint homey atmosphere and friendly staff and you've got yourself a winner.
On the Menu: Some of the best cathead biscuits you've ever tasted, and you can get them on the side with another meal or do a build your own biscuit. There are also lots of classic Southern breakfast dishes with eggs, meats, omelets, scramblers, waffles, pancakes, Big Tennessee french toast and more. The Huntcamp Skillets are also amazing, and so is the sausage gravy.
Allergen Info: Plenty here if you are gluten free except the biscuits, pancakes, waffles, etc. but eggs or an omelet with meat and veggies are great options. Ask if you have a special dietary restriction, they are very helpful.
Location: 1103 Parkway
Learn more about Crockett's Breakfast Camp here
Final Thoughts
Well, there you have it – the ultimate guide to the best breakfast restaurants in the Gatlinburg area. Whether you want a quick donut or pastry with your coffee or you're looking for a full breakfast experience for the most important meal of the day, we've got the whole family covered!
Happy eating!