Lil Travel Folks is supported by its readers. If you purchase through a link on my site, I may earn a commission. Learn more
Our family makes the drive from Nashville to Gatlinburg several times a year, and we absolutely adore everything the area has to offer! Today we are checking out the best downtown Gatliburg attractions.
Nestled at the entrance to the Great Smoky Mountains National Park, downtown Gatlinburg offers an incredible range of attractions for visitors seeking adventure, entertainment, and good times. As we explore this bustling tourist town, we will find some of the best restaurants, shopping, and hotels in the Southeast. With fun waiting around every corner, Gatlinburg provides an unforgettable experience for travelers of all ages and interests.
As we stroll through Gatlinburg's lively streets, we'll come across a fantastic variety of attractions that are sure to thrill and delight. From the amazing underwater world at Ripley's Aquarium of the Smokies to the interactive challenges at the numerous museums and mini-golf courses, there is truly something for everyone. Not to mention, the downtown area boasts a vibrant atmosphere that perfectly complements the surrounding natural beauty of the Smokies.
No visit to downtown Gatlinburg would be complete without taking a detour to indulge in some shopping. As we wander through The Village, we'll be enchanted by over 27 unique boutiques, clothiers, eateries, galleries, and more. And for those keen on exploring the great outdoors, The Day Hiker and Life is Good offer a world of adventure, with all your recreational apparel needs covered. As we embark on this journey, we invite you to join our family in celebrating the many treasures to be discovered in downtown Gatlinburg.
Popular Downtown Gatlinburg Attractions
Gatlinburg Space Needle
We can't discuss downtown Gatlinburg attractions without mentioning the iconic Gatlinburg Space Needle. This observation deck offers panoramic views of the Great Smoky Mountains National Park and the town of Gatlinburg. We can easily reach the deck by taking one of the glass elevators. While visiting the Space Needle, we can also enjoy:
Arcade games
Virtual Reality rides
Laser tag
Restaurants like the Pancake Pantry
Ripley's Aquarium of the Smokies
Our visit to downtown Gatlinburg wouldn't be complete without a trip to Ripley's Aquarium of the Smokies. This popular attraction offers a chance to observe a variety of marine life, such as sharks, seahorses, turtles, and the crowd-favorite, Penguin Playhouse. Ripley's Aquarium is a great place for both kids and adults to learn and explore.
If you're planning on coming to the area more than once or want to visit the aquarium over a few days, I highly recommed the annual pass. We got these and the boys still enjoyed visiting the aquarium every time over the year – so they definitely paid for themselves!
Here is a fun photo of our boys at one of the exhibits:
Anakeesta
Anakeesta is an outdoor adventure park in downtown Gatlinburg, offering a mix of natural beauty and family fun. At Anakeesta, we can:
Ride the scenic Chondola
Walk along the Treetop Skywalk
Play at the Treehouse Village Playground
Enjoy live music and dining
You might even spot a black bear during your visit!
Ober Gatlinburg
Ober Gatlinburg is a fantastic ski resort, offering numerous activities to enjoy both on and off the slopes. We can:
Ski, snow tube or snowboard (seasonal)
Enjoy the wildlife encounter
Take a scenic chairlift ride
Ice skate indoors
Try the mountain coaster
Visit the shops
Ride the Aerial Tram (you will see some amazing views!)
There's something for everyone, regardless of skill level or experience.
Gatlinburg Skylift Park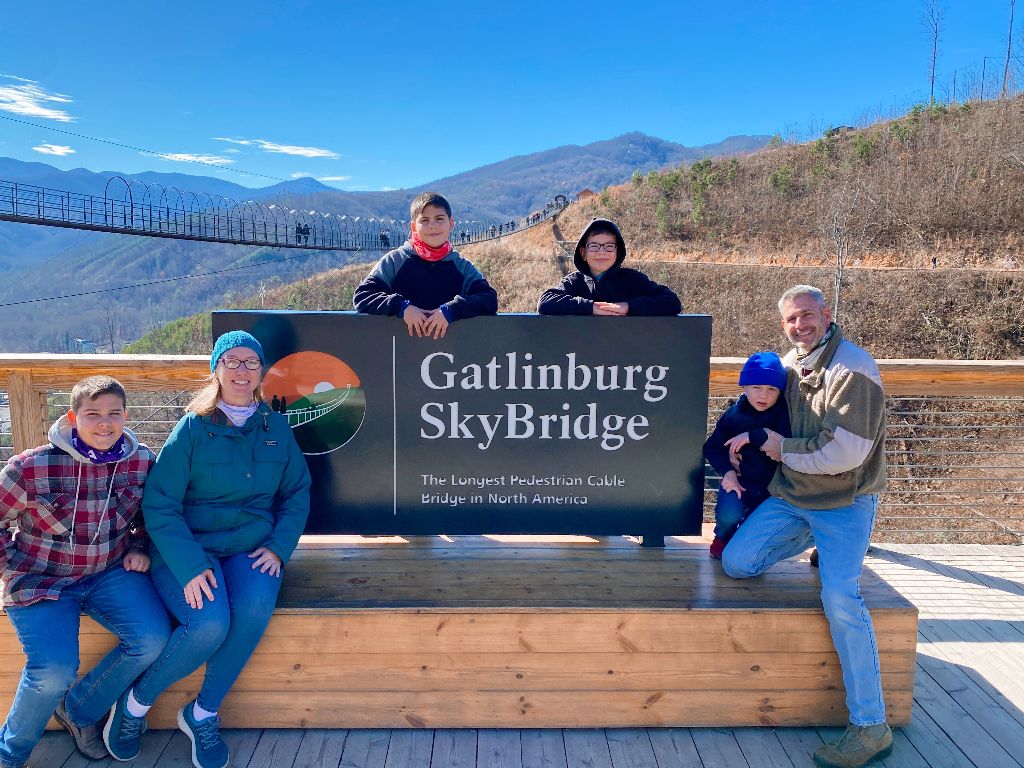 The Gatlinburg Skylift Park offers us breathtaking views of downtown Gatlinburg and the Great Smoky Mountains. We can ride the classic Skylift, walk across the longest pedestrian suspension bridge in the United States, and explore the SkyDeck's multiple levels.
We loved this activity, and rode the chairlift three times in one day! If you think that might be you, get the unlimited rides day pass. It's not much more than a single ride.
Hollywood Star Cars Museum
For a walk down memory lane, we can visit the Hollywood Star Cars Museum. This attraction showcases famous vehicles from movies, television, and music artists, such as the Batmobile, the General Lee, and many more. It's a great opportunity for photos and to learn more about these iconic vehicles.
Moonshine Distilleries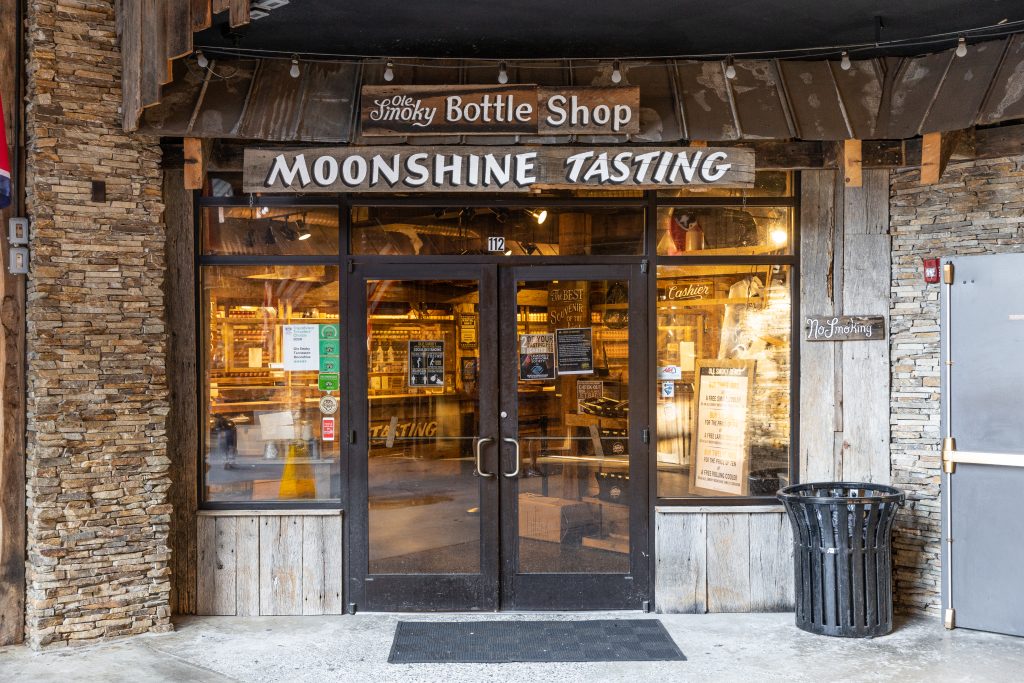 Downtown Gatlinburg is known for its moonshine distilleries. We can visit places like Ole Smoky Moonshine Distillery or Sugarlands Distilling Company to:
Sample various moonshines
Learn about the distilling process
Purchase bottles of moonshine and related merchandise as souvenirs
See our guide to moonshine tasting in the area here
Mysterious Mansion
Finally, if we're in the mood for a spooky adventure, the Mysterious Mansion is the perfect place. This haunted attraction offers a thrilling experience to test our bravery, featuring live actors, special effects, and surprises around every corner.
Our kids aren't big on spooky things, so we don't have a photo of this one yet!
Family Friendly Attractions
Hillbilly Golf
In downtown Gatlinburg, one of our favorite places for some family fun is Hillbilly Golf. This unique mini-golf course takes you to the top of the mountain on an incline railway, adding an extra thrill to your experience. Once there, you'll find two challenging 18-hole courses with a fun hillbilly theme that will entertain both kids and adults.
We loved this activity, even though we didn't keep score. It was fun and we also saw chipmunks and other small wildlife as we worked our way down the course! The staff was super friendly, too, and even took this picture for us!
Ripley's Mountain Coaster
For the thrill-seekers in your family, we recommend trying out Ripley's Mountain Coaster. This attraction offers an exciting ride through the beautiful Smoky Mountains on a gravity-propelled coaster. With interactive brakes, you can control your speed, making it an enjoyable ride for everyone. The views from the coaster are breathtaking, and it's a great way to experience the natural beauty of Gatlinburg.
Gem Mining
A visit to Gatlinburg wouldn't be complete without trying your hand at gem mining. This fun and educational activity allows you to explore interactive exhibits and learn about the area's rich geology. Kids will love sifting through sand and gravel to uncover their very own gemstones. There are several gem mining locations in downtown Gatlinburg that offer a memorable experience for the whole family.
Escape Games
If you're looking for an indoor activity that will challenge your family's problem-solving skills, downtown Gatlinburg has a variety of escape game options. Here, you'll work together to solve riddles and puzzles in order to escape a themed room within a designated time limit. Not only is it a fun way to bond, but it also provides an educational experience for all ages.
We haven't tried an escape game just yet with our youngest being 5, but we will soon! I've heard they are fun!
Fannie Farkle's
Located in the heart of downtown Gatlinburg, Fannie Farkle's is a popular spot for families looking for entertainment. With a large arcade, carnival-style games, and delicious food, there's something for everyone to enjoy. While here, don't forget to grab one of their famous Ogle dogs – a corn dog that's a local favorite.
From Gatlinburg Sky Lift, offering stunning views on the aerial tramway, to relaxing bedroom lodges near the historic nature trail, downtown Gatlinburg has an array of family-friendly attractions to make your visit a memorable one. These activities, along with top-notch attractions like the tall observation tower and the Rocky Top Wine Trail, ensure that Gatlinburg has something fun for everyone in your family.
Unique Shops and Shopping Experiences
Village Shops
In downtown Gatlinburg, we discovered The Village Shops, a collection of 27 unique boutiques, clothiers, eateries, and galleries that offer a quaint, Old World atmosphere. It is located just past stoplight #6 on The Parkway. Our visit took us through a variety of stores, ranging from artisan crafts to delightful eateries. Here, we enjoyed the vibrant ambiance and one-of-a-kind items that gave us a taste of authentic Gatlinburg charm.
Firefly Village
We also explored the picturesque Firefly Village, nestled in the scenic Great Smoky Arts and Crafts Community, offering stunning views of the Smoky Mountains. This unique shopping district is brimming with handcrafted goods, local art, and specialty gift items. It's a wonderful place to find that perfect, distinctive souvenir to remember our adventures in Gatlinburg.
Some of our favorites:
Handcrafted Jewelry
Artisan Woodwork
Local Pottery
Specialty Home Décor
Custom Leather Goods
Unique Gift Items
Candle Cottage
One of our highlights in Gatlinburg was visiting the Candle Cottage, an enchanting store featuring an incredible array of candles in various shapes, sizes, and scents. From novelty candles to classic fragrances, we were amazed by the diversity of their collection. It was a delightful sensory experience that added a touch of warmth and light to our Gatlinburg memories.
During our time in downtown Gatlinburg, we loved the unique shopping experiences and came across numerous must-see attractions. Some of the top things on our bucket list included:
Visiting the highest point of the Smoky Mountains
Taking a scenic drive through the breathtaking landscape
Snow tubing and alpine slide adventures at Ober Gatlinburg
Exploring the Sweet Fanny Adams Theatre for some laughter and entertainment
As we venture through downtown Gatlinburg, it's clear that this charming town offers a diverse mix of engaging attractions, captivating scenery, and delightful shopping experiences that make it truly unforgettable.
Dining and Entertainment
Top Dining Spots
In downtown Gatlinburg, we can't help but enjoy the wide variety of dining options available. As we stroll along the Parkway, we often start our day with breakfast at the Pancake Pantry. Mid-day, it's the perfect spot for a lunch break too. After a day full of outdoor adventures, like exploring the Great Smoky Mountain National Park or trying some gem mining, we look for a more substantial meal.
For a family-friendly meal, we often head to one of the many restaurants offering hearty American fare, such as burgers, steaks, and pizzas. We especially love taking the whole family to a spot where they can also enjoy arcade games, making the dining experience memorable and fun.
If you're a day hiker who's finished exploring the heart of the city and looking for something a bit more upscale, there are several fine dining options available, showcasing delicious cuisine and should not be missed.
Signature Dishes to Try
When dining in downtown Gatlinburg, there are a few signature dishes that we absolutely love and recommend trying:
Donuts from the Donut Friar: This charming spot in The Village Shops is a must-visit for those with a sweet tooth. Be sure to try their legendary glazed donuts and cinnamon twists.
Pancakes from the Pancake Pantry: No visit to Gatlinburg is complete without trying the fluffy pancakes at this iconic eatery.
Local Trout Dishes: Gatlinburg boasts an abundance of fresh trout caught right from the mountain streams. Many restaurants in the area offer delicious preparations of this local favorite, most notably the Smoky Mountain Trout House.
Southern Barbecue: You can't visit the South without indulging in some mouthwatering barbecue dishes. In Gatlinburg, you'll find a variety of styles and flavors to choose from. We never miss a trip to Bennett's Pit Barbecue!
After our meals, we love diving into the rich entertainment scene in downtown Gatlinburg. Live music can often be found in various venues, allowing us to relax and enjoy the local talent. Regardless of your interests or preferences, downtown Gatlinburg truly offers something for everyone to enjoy when it comes to both dining and entertainment.
Nightlife in Downtown Gatlinburg
Overview of Gatlinburg's Nightlife
In downtown Gatlinburg, there's no lack of excitement after the sun goes down. Our vibrant nightlife scene offers a great mix of places for families, friends, and even solo travelers. Surrounded by the stunning beauty of the Smoky Mountains, the town is filled with live music venues, bars, and clubs that provide endless entertainment options.
Top Bars and Nightclubs
Here are some popular spots we recommend for a night out in Gatlinburg:
Shamrock's Lounge & Nightclub: A perfect spot to grab a quick bite and enjoy live music.
Club 812: Known for its cool atmosphere, friendly employees, and reasonable prices, this is definitely a place worth visiting.
Blaine's Grill and Bar: This lively spot is popular for its live music and tasty menu.
Ole Smoky Moonshine Distillery: Sample a variety of moonshine flavors and enjoy fun, upbeat entertainment.
Sugarlands Distilling Company: Sip on craft cocktails and enjoy the ambiance of this locally loved hangout spot.
Gatlinburg Ghost Walks
Looking for something more thrilling? We suggest you take a spooky tour of downtown Gatlinburg. Participate in a guided ghost walk as you explore the town's haunted history. See our guide to Gatlinburg ghost walks here.
Family-Friendly Nighttime Activities
For a family-orientated night, we recommend these options:
Gatlinburg Space Needle: Standing 407 ft. tall, this observation tower offers stunning panoramic views of the city's glittering lights.
Live Music: Discover concert series and live music events happening throughout downtown Gatlinburg.
Stroll through Downtown: Take a leisurely walk through the quaint streets filled with bustling businesses and illuminated storefronts. We stopped at Waffle de Lys for a delicious nighttime treat!
Special Events in Gatlinburg
Gatlinburg, Tennessee is a popular destination with a wide range of attractions and activities throughout the entire year. In this section, we will discuss the special events that take place in downtown Gatlinburg, including seasonal events and festivals.
Seasonal Events
In Gatlinburg, we celebrate the changing seasons with a variety of exciting events. Some popular seasonal events include:
Gatlinburg Winter Magic: During the colder months, the town transforms into a winter wonderland with dazzling light displays and festive decorations.
Smoky Mountain Tunes and Tales: As the weather warms up, the streets fill with talented performers sharing the music and stories of our Appalachian heritage.
4th of July Midnight Parade: We proudly host the nation's oldest 4th of July parade tradition, which begins at the stroke of midnight as July 3 turns into July 4.
Gatlinburg Farmers Market: Open from May through October, our Farmers Market showcases the best of local produce, artisan products, and engaging activities for kids and adults alike.
Festivals
Alongside our seasonal events, we also host numerous festivals throughout the year. Some of the most well-known Gatlinburg festivals include:
Craftsmen's Fair: Held in July and October, this fair features more than 150 artisans showcasing their unique crafts, with live demonstrations and opportunities to purchase one-of-a-kind items.
Winter Magic Kickoff & Chili Cookoff: This event kicks off our Winter Magic season with a chili tasting competition, live entertainment, and the official lighting of our holiday light displays.
Gatlinburg Halloween activities – see our guide to Halloween in Gatlinburg!
We hope you'll find our special events in Gatlinburg as entertaining and delightful as we do. With such a wide range of activities and celebrations, there is always something new and exciting happening in our beautiful town.
Where to Stay for Your Downtown Gatlinburg Attractions
Now, when it comes to finding a comfy place to rest after a day of adventure in Gatlinburg, you're spoiled for choice. Let's talk about some of our personal favorite places to stay, from the perspective of a family who's "been there, done that" in the world of Gatlinburg accommodations.
Gatlinburg is as diverse in its accommodation options as it is in its attractions. You've got everything from luxury hotels with mountain views to charming cabins nestled in the woods, and even some pretty cool vacation rentals if you want a home-away-from-home experience.
Recommendations for Hotels and Cabins
Courtyard Marriott Downtown Gatlinburg
Our Favorite Indoor Water Parks
WILD BEAR FALLS (learn more here)
WILDERNESS AT THE SMOKIES (learn more here)
We have personally stayed at both of these with the kids and they were amazing!! The Wilderness is larger and has more for older kids, but it is a drive from Gatlinburg.
Click here to check out Gatlinburg cabins
Click here to check out Gatlinburg hotels
Remember, no matter where you stay, you're never far from the action in Gatlinburg. So, pick a place that suits your family's style and makes you feel at home. After all, vacations are about comfort, fun, and making unforgettable memories!
Tips for Visiting Downtown Gatlinburg Attractions
As seasoned Gatlinburg visitors, we're excited to share some insider tips and tricks we've picked up along the way. Here's how to make the most of your family trip to this delightful mountain town.
Best times of year to visit
While Gatlinburg is honestly fantastic all year round, we've got our personal favorites. If you're a fan of gorgeous fall colors like we are, October is hard to beat. But be warned, it's also quite popular!
We've also found that spring, particularly May and the first week of June, is a gem – the town is less crowded, the weather is mild, and the wildflowers are in bloom.
Packing suggestions
Packing for Gatlinburg can be tricky, as the weather can be unpredictable. Here's what's worked for us:
Layer up! Bring clothes you can layer, as temperatures can fluctuate throughout the day.
Don't forget a light rain jacket or umbrella, as showers are common, especially in the summer months.
Pack comfortable walking shoes or hiking boots for exploring the great outdoors.
If you're visiting in the winter, bring warm clothing, including hats, gloves, and scarves.
A small backpack or fanny pack can be handy for carrying essentials while you're out and about.
Check to see if you need a swimsuit – many hotels have pools and we've swam indoors even in the winter. You don't want the kids to miss out (if you're traveling with any), so you might want to bring one. There are plenty of small souvenir shops that remind me of Florida in nearby Pigeon Forge, and they will have swimwear if you forget.
General tips for a smooth trip
Here are a few nuggets of wisdom we've gathered:
Downtown Gatlinburg attractions can get busy, and finding a parking spot can sometimes be a challenge. We've found that getting an early start not only helps with parking but also beating the crowds at popular attractions. When we are focusing on downtown Gatlinburg and all it has to offer we will often choose a hotel that is on the strip so that we can get the free parking for staying at the hotel and then we walk to the different activities, but there are many affordable parking lots, too.
While spontaneous adventures can be fun, some attractions, especially the popular ones, may require advance booking. So, a little bit of planning can go a long way.
There's so much to see and do, it can be easy to try to cram it all in. But trust us, taking time to relax and enjoy the natural beauty around you makes the trip so much more enjoyable. Some of our best memories are just sitting together as a family, enjoying a picnic or watching the sunset.
If you're traveling with kids, make sure to schedule some downtime. There are plenty of great parks and quiet spots to recharge in between activities, or you can return to your lodging to rest.
Keep an eye out for discounts and package deals on attractions and lodging. We've saved a bundle by booking in advance or bundling activities together.
Talk to the locals! They're a fantastic source of information and can give you insider tips on the best spots to eat, play, and relax.
Remember, every family's experience will be unique, and part of the fun is discovering your own favorite spots and activities. So take your time, do your research and have fun!
Final Thoughts on Downtown Gatlinburg Attractions
We've wandered through the aquariums, ascended the Space Needle, hit the slopes at Ober Gatlinburg, and shopped until we dropped at The Village Shops. We've even soared high above the city in the SkyLift Park, hiked in the Great Smoky Mountains, and indulged in the local cuisine. After all these adventures, we can safely say that downtown Gatlinburg is an absolute treasure trove of attractions.
Gatlinburg offers a unique blend of natural beauty, thrilling activities, and relaxing retreats that captivates every visitor. Each trip we've taken has given us special memories and new experiences to cherish. And the beauty of it all? There's always something new to discover on your next visit!
Whether you're planning a family vacation, a romantic getaway, or a solo adventure, downtown Gatlinburg welcomes you with open arms. There's an undeniable charm to this mountain town that keeps drawing us back, year after year. The warm hospitality, the scenic beauty, the buzzing activities – it's all part of the Gatlinburg magic.
We can't wait for you to embark on your own Gatlinburg adventure and experience this enchanting place for yourself. Trust us, the memories you'll make here will be ones to treasure for a lifetime. So pack your bags, gather your loved ones, and set off for a journey to downtown Gatlinburg. Adventure awaits!
Enjoy!
Amanda