Lil Travel Folks is supported by its readers. If you purchase through a link on my site, I may earn a commission. Learn more
Planning a day trip to Gatlinburg? Find all you need to know in our easy guide, from a family who's been there!
Our family lives in Nashville, about three hours away from the Smokies, and we often plan fun things for day trips to Gatlinburg. Whether it's taking in spectacular views, going snow tubing in the colder months, or just staying within walking distance of all that this small town has to offer, we've been there and done that (and gone back to do it again!).
Gatlinburg, Tennessee, nestled in the heart of the Great Smoky Mountains, offers a fun escape for travelers seeking natural beauty, unique attractions, and a vibrant atmosphere. With its countless activities and picturesque landscapes, it's the perfect destination for a memorable day trip. In this article, we'll show you how to make the most of your visit and share our favorite spots to ensure a fantastic time for all!
From its delightful pancake houses to the renowned Ripley's Aquarium of the Smokies, Gatlinburg has something for everyone. We'll guide you through a day filled with excitement, culture, and breathtaking natural landscapes. And if you have an adventurous spirit, don't worry – we have a few surprises up our sleeve that you won't want to miss!
Embarking on a journey to Gatlinburg promises not only adventure and amusement but also an unforgettable day. So, let's begin our exploration of this enchanting mountain town, uncovering its hidden gems and creating memories that will last a lifetime.
Be sure to see our specific itineraries near the end of the post!
Planning Your Day Trip to Gatlinburg
Gatlinburg, a picturesque mountain town situated in East Tennessee, makes for a fantastic day trip destination. In this section, we'll help you plan your visit with information on the best time to visit, getting there, and creating an itinerary.
Best Time to Visit
Gatlinburg is a beautiful place to visit year-round, but each season offers its own unique charm.
Spring (March to May): The weather is mild, with blooming wildflowers and lush greenery. It's an ideal time for hiking and outdoor activities.
Summer (June to August): With warm temperatures, summer is a popular time for families to visit. This is peak season, so expect some crowds.
Fall (September to November): Fall is stunning in Gatlinburg, with vibrant foliage and crisp temperatures perfect for outdoor exploration.
Winter (December to February): A wonderland of snow and holiday festivities, winter offers skiing at Ober Gatlinburg and cozy evenings by the fire. Please keep in mind that some things are closed during January and February, so check your desired activity before planning your trip.
Insider's Tip: The busiest times are July (especially around the 4th) and October (for the fall foliage). The holiday weeks of Thanksgiving and Christmas are also packed. We have found that we enjoy April, the first week of June and the first week of December the most, when there is still plenty to do but not as many crowds.
Getting There
Gatlinburg is easily accessible from several locations in the United States, making it an ideal day trip destination. It's easily accessible by driving or even flying into the nearest airport. Let's take a look:
Driving: For those living within a reasonable driving distance, arriving in Gatlinburg by car is the most popular and convenient option. The town is easily accessible via major highways such as Interstate 40, US-441, and US-321. Driving to Gatlinburg allows you the flexibility to explore the area at your own pace and provides the added benefit of having your own transportation for visiting nearby attractions and scenic drives.
Flying: If you're coming from farther away, flying into a nearby airport is a convenient option. The closest airport to Gatlinburg is McGhee Tyson Airport (TYS) in Knoxville, Tennessee, located approximately 42 miles away. Several major airlines serve this airport, providing daily flights from various domestic and international destinations. Once you arrive at McGhee Tyson Airport, you can rent a car or use a shuttle service to reach Gatlinburg.
Creating an Itinerary
A visit to Gatlinburg offers a wide range of activities for all types of travelers. Here are some suggestions for your itinerary:
Experience the Great Smoky Mountains: Hike or drive through the breathtaking Great Smoky Mountains National Park.
Explore Downtown Gatlinburg: Stroll through the charming downtown area, and enjoy the many shops, attractions, and local eateries.
Ride the Ober Gatlinburg Tramway and Ski Lift: Take in the panoramic views of Gatlinburg and the surrounding mountains from the Ober Gatlinburg Tramway and ski lift.
Visit Ripley's Aquarium of the Smokies: Explore the aquarium and marvel at the diverse marine life, including sharks, fish, and sea turtles.
Sample Local Cuisine: Start your day with a hearty pancake breakfast at one of Gatlinburg's famous pancake houses, and don't forget to try some delicious, authentic southern barbecue during your visit.
Remember that these are just suggestions, and you can tailor your itinerary to your personal interests and preferences. There's something for everyone in Gatlinburg, so make the most of your day trip and create lasting memories!
See specific itineraries for lots of different scenarios below!
Great Smoky Mountains National Park
Cades Cove
One of our favorite spots in the Great Smoky Mountains National Park is Cades Cove. This gorgeous valley is brimming with wildlife, including black bears, deer, and various bird species. We love the scenic 11-mile loop that allows us to take in the breathtaking views and observe wildlife in their natural habitat. Additionally, Cades Cove also features historical buildings, such as churches, cabins, and a working grist mill, providing us with a look at the area's rich history.
Clingmans Dome
When visiting the park, we make sure not to miss Clingmans Dome, which is the highest point in the Great Smoky Mountains. At 6,643 feet, it provides us with stunning panoramic views of the surrounding mountains. We enjoy the moderately challenging half-mile hike to the observation tower, which features an accessible ramp for everyone to enjoy the views.
Views from Clingmans Dome are far-reaching, but they can be obscured by fog or clouds at times
Temperatures at the top can be significantly colder than in the valley below, so we always dress in layers. We made that mistake when it was in the 50's in town, only to find ice on the trees and super cold wind at the top!
To experience the best views, we try to visit on a clear day, especially in the early morning or late afternoon when the sun isn't directly overhead
Part of the Clingman's Dome trail is also the Appalachian Trail, so you can say you've hiked part of it!
Newfound Gap
Newfound Gap is another must-see spot in the park. It is a picturesque mountain pass that serves as the border between Tennessee and North Carolina. We particularly enjoy the inspiring view from the Rockefeller Memorial, which marks the spot where President Franklin D. Roosevelt dedicated the park in 1940.
With over 800 miles of trails throughout the park, we're always eager to explore different areas. One of our favorite trails near Newfound Gap is the nature trail to Charlies Bunion, which offers a challenging hike with rewarding views of the surrounding mountains.
Downtown Gatlinburg Attractions
Gatlinburg Space Needle
We absolutely love visiting the Gatlinburg Space Needle. This impressive 407-foot tall observation tower offers breathtaking panoramic views of downtown Gatlinburg and the surrounding Great Smoky Mountains. Not only do you get to experience the amazing views, but there is also an arcade at the base of the tower, perfect for some family fun. Additionally, their gift shop offers unique souvenirs to take home.
Ripley's Aquarium
Ripley's Aquarium of the Smokies is a must-see attraction in downtown Gatlinburg. With over 10,000 beautiful sea creatures, this amazing aquarium has been voted the best in America by the readers of USA Today. The interactive exhibits, live shows, and stunning displays will keep you entertained for hours. Don't forget to visit the gift shop on your way out for something to remember your Ripley's Aquarium adventure.
If you're going to visit the aquarium more than a couple of times in a year, the annual pass is definitely worth it. We do this when we know we will be in town at least three times over the course of a year and our boys always enjoy the aquarium.
Over 10,000 sea creatures
Interactive exhibits (the boys love it when they can pet a jellyfish!)
Live shows
Great gift shop
Gatlinburg SkyLift Park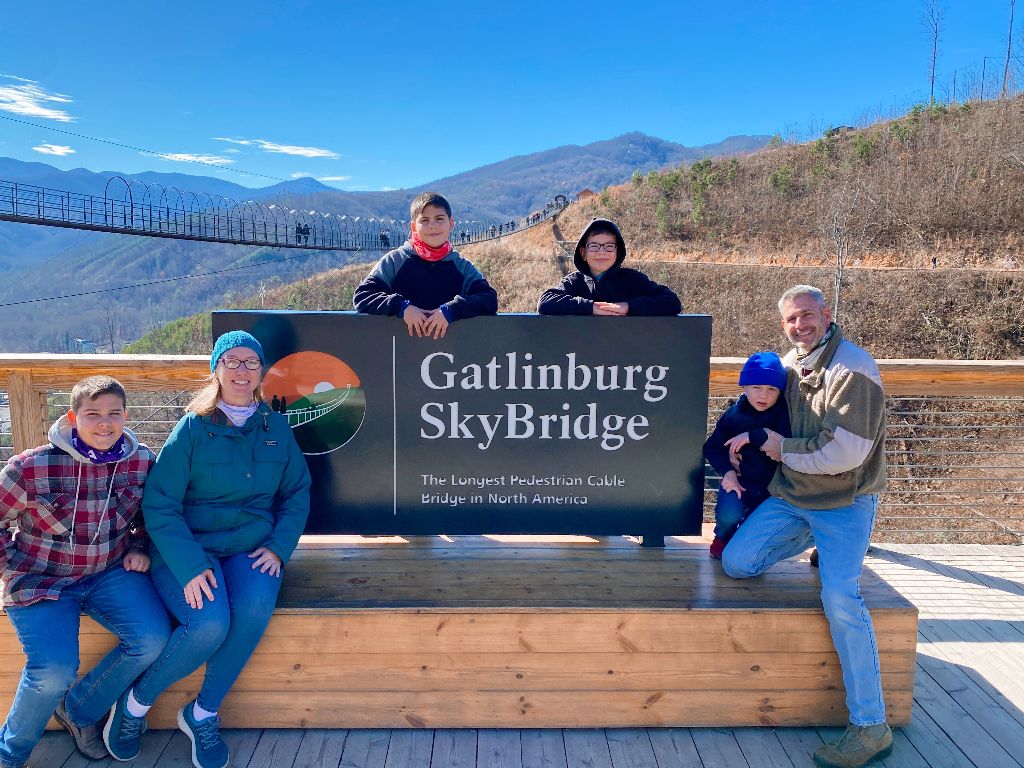 For an unforgettable experience, we suggest visiting Gatlinburg SkyLift Park. This park boasts the famous Gatlinburg SkyBridge – the longest pedestrian suspension bridge in North America. Enjoy a scenic chairlift ride up Crockett Mountain, taking in the picturesque views of downtown Gatlinburg and the Smoky Mountains. Once at the top, you can walk across the SkyBridge, explore the SkyDeck, and relax at the SkyCenter with snacks and refreshments.
Tip: It doesn't cost much more for unlimited rides for the day, so go ahead and get the unlimited pass if you even think you'll ride more than once. We didn't and our boys wanted to ride a few times so we had to get back in line and pay the differenct to upgrade (at least they had that option!).
Gatlinburg SkyBridge
Scenic chairlift ride
SkyDeck, SkyTrail and SkyCenter
Don't forget to visit the visitor center in downtown Gatlinburg for more information about these fantastic attractions and many others. With so much to do and see, you'll create cherished memories to last a lifetime on your trip to Gatlinburg.
Anakeesta: A Magical Mountain Escape
Perched atop a mountain overlooking Gatlinburg, Anakeesta is an outdoor adventure park that offers a unique blend of natural beauty, thrilling attractions, and family-friendly activities. This enchanting destination is an ideal stop on your perfect day trip, allowing you to immerse yourself in the splendor of the Great Smoky Mountains while enjoying a variety of fun and exciting experiences.
Getting to Anakeesta: To reach Anakeesta, you'll start your journey in downtown Gatlinburg. From there, you'll take the Chondola, a scenic chairlift or gondola ride, up to the summit of Anakeesta Mountain. As you ascend, you'll be treated to breathtaking views of the surrounding mountains and Gatlinburg below.
Attractions and Activities: Once you arrive at the summit, you'll find a myriad of attractions and activities waiting for you. Here are a few highlights:
Tree Canopy Walk: Stroll along a series of 16 connected sky bridges that are suspended high above the forest floor. This unique walkway offers a bird's-eye view of the lush forest and the opportunity to spot native wildlife.
Dueling Zipline Adventure: Get your adrenaline pumping as you soar through the treetops on a thrilling zipline adventure. This exhilarating ride features multiple ziplines, allowing you to race your friends or family members through the canopy.
AnaVista Tower: Climb to the top of the tallest point in downtown Gatlinburg for panoramic views of the Great Smoky Mountains National Park and the surrounding area. This 360-degree observation platform provides a stunning vantage point to take in the region's natural beauty.
Gem Mining: Experience a little piece of Appalachian history as you pan for gemstones in the interactive sluice. Discover a variety of precious and semi-precious stones while learning about the region's rich mining heritage.
TreeVenture Challenge Course: Test your agility and balance on this multi-level ropes course that offers a range of difficulty levels to accommodate adventurers of all ages and abilities.
Dining and Shopping: Anakeesta also offers several dining options, including Cliff Top Grill & Bar, which serves delicious American fare and boasts stunning views of the Smokies. For those with a sweet tooth, Pearl's Pie in the Sky offers a delightful selection of freshly baked pies, ice cream, and other treats. Don't forget to explore the charming shops at Firefly Village, where you can find unique gifts, apparel, and souvenirs to commemorate your perfect day trip to Gatlinburg.
With its captivating blend of natural beauty and exciting attractions, Anakeesta is a must-visit destination on your Gatlinburg day trip itinerary. Enjoy the serene atmosphere and the thrill of adventure as you create unforgettable memories in this magical mountain escape.
Outdoor Activities
Gatlinburg is a fantastic destination for a day trip, offering a wide range of outdoor activities for everyone to enjoy. In this section, we'll cover some of the most popular options, including hiking trails, fly fishing, and horseback riding.
Hiking Trails
There are countless hiking trails in the area, with many located within the beautiful Great Smoky Mountains National Park. One of our favorite spots for hiking is Cades Cove, where you can take in some breathtaking views of the Smoky Mountains. There are also 800 miles of trails within the national park, catering to all skill levels – from easy strolls to challenging backcountry adventures.
Fly Fishing
If you're a fan of fly fishing, Gatlinburg has got you covered. With miles of streams and the Little Pigeon River flowing through the area, there are ample opportunities for anglers to cast their lines. Gatlinburg and the surrounding areas are an ideal location for trout fishing, and the local guides are knowledgeable and eager to help you find the perfect spot.
Horseback Riding
Horseback riding offers a unique way to experience Gatlinburg's beautiful natural surroundings. There are several outdoor adventure companies offering guided horseback tours for riders of all skill levels. These tours can take you through scenic forests, mountain trails, and even past beautiful waterfalls.
For the kids, there is also the Smoky Mountain Deer Farm and Petting Zoo, which our kids really enjoyed. They offer horseback riding and also pony rides for the smallest kiddos. It's a little bit of a drive from Gatlinburg, but you can feed zebras, camels and many other animals there and is worth a trip.
Family-Friendly Fun
Amusement Parks
Gatlinburg and nearby Pigeon Forge have a variety of amusement parks which promise excitement and fun for the whole family. One such place is Anakeesta, mentioned above, which is an outdoor adventure theme park filled with activities for all ages. We can also head to Ober Gatlinburg, the only combined ski resort and amusement park in Tennessee.
Gatlinburg Mountain Coasters
For some thrilling outdoor fun, we can hop on one of the Gatlinburg Mountain Coasters. There are many Alpine coasters in the are that take you on a beautiful ride through the mountainside, offering breath-taking views and unforgettable experiences. The coaster's single or double carts can accommodate both kids and adults.
Moonshine Tasting
If you are into tasting unique alcohol, you shouldn't miss the chance to taste some authentic Tennessee moonshine. Several distilleries in the area offer tastings and tours for visitors so we can learn about the history and production process of this iconic Southern spirit. But remember, moonshine tasting is an activity reserved for adults.
Dining and Entertainment
Gatlinburg is home to a variety of excellent restaurants, lively music venues, and fun arcade games. In this section, we'll share some of our favorite spots for dining and entertainment.
Restaurant Recommendations
Live Music Venues
Gatlinburg has a thriving live music scene. Here are a few popular venues to consider:
Ole Smoky Moonshine: Enjoy moonshine tasting and live bluegrass music at Ole Smoky Moonshine's distillery.
Smoky Mountain Brewery: This lively bar and restaurant features a rotating selection of live music acts, from local talent to touring bands.
Arcade Games
For some fun and games during your Gatlinburg visit, check out these arcades:
Fannie Farkle's: This family-friendly arcade offers a variety of games, delicious snacks, and even a famous "Ogle dog" to enjoy while you play.
Ripley's Super Fun Zone: With a mix of arcade games, laser tag, and mini-golf, Ripley's Super Fun Zone provides entertainment for everyone.
Scenic Drives and Views
Gatlinburg is known for its scenic beauty, and one way to take it all in is through scenic drives and views. In this section, we'll explore three incredible spots, all offering breathtaking vistas and memorable experiences.
Blue Ridge Parkway
The Blue Ridge Parkway, stretching from North Carolina to Virginia, boasts some of the most majestic views in the Southeast. We highly recommend taking a drive along this picturesque route when visiting Gatlinburg. As you travel, you'll be amazed by the magnificent vistas of the Smoky Mountains and lush valleys. While the entire parkway is worth exploring, one of Gatlinburg's nearby highlights is the Newfound Gap Road, which extends from Gatlinburg, TN to Cherokee, NC, offering various types of trees and beautiful mountain views.
Foothills Parkway
Another must-visit scenic drive is the Foothills Parkway. This lesser-known gem provides stunning views of both the Smokies and the lush valleys below. As you travel along the parkway, you'll come across several overlooks where you can stop and take in the beauty of Gatlinburg's surroundings. Additionally, the Gatlinburg Scenic Overlook on the Gatlinburg Bypass offers breathtaking sights of downtown Gatlinburg and the Great Smoky Mountains.
Points of Interest:Newfound Gap Road
Gatlinburg Scenic Overlook
Aerial Tramway
If you're looking for a different perspective on Gatlinburg's beauty, why not soar above it all on the Aerial Tramway? This unique experience takes you on a scenic ride from downtown Gatlinburg to the top of the mountain at the Ober Gatlinburg amusement park and ski area. The tramway offers stunning views of the surrounding mountains, making for a memorable and picturesque journey.
In addition to beautiful views, the Aerial Tramway also provides access to various activities at Ober Gatlinburg, including ice skating, an alpine slide, and even a chairlift ride up to one of the best views of the Smokies. Another advantage of the Aerial Tramway is its proximity to downtown Gatlinburg, where you can dine, shop, and explore the city's attractions.
Scenic ride from downtown Gatlinburg
Access to activities at Ober Gatlinburg
Proximity to downtown attractions
The last time we were in town we stayed for only two days, got a hotel near the Tramway, walked everywhere in town we wanted (the car stayed parked the whole time!) and visited Ober Mountain via the tram, walked the city and did Hillbilly Golf, too.
Wrapping Up Your Day
After a fantastic day exploring Gatlinburg and its surrounding area, it's time to wind down and cherish the memories you've made. In this section, we'll guide you through some enjoyable ways to wrap up your day with some souvenir shopping and recapping your adventure.
Souvenir Shopping
Before you leave Gatlinburg, don't forget to pick up some souvenirs to remember the amazing road trip experience. Gatlinburg is home to charming gift shops and stores where you can find a variety of items, from locally-made crafts and artwork to Smoky Mountain-themed trinkets.
You might even come across some memorabilia from iconic local attractions such as the Hollywood Star Cars Museum. Picking up a souvenir or two to take home will serve as a great reminder of your incredible day.
Recapping Your Adventure
As the night sets in and your day trip nears its end, take some time to recap and share your favorite moments with your friends or family. Here are some highlights you might want to reflect on:
Seeing the beautiful Gatlinburg area and its stunning landscape
Having a blast at the local attractions like the Hollywood Star Cars Museum
Trying out delicious local food throughout the day
Taking in the picturesque views on your scenic road trip
To make the discussions even more interactive, feel free to share any photos you took throughout the day or even jot down your thoughts in a travel journal.
Lastly, don't forget to treat yourself to a well-deserved scoop of ice cream, a perfect way to refresh and unwind after an eventful day. Keep an eye out for local ice cream shops where you can savor a variety of flavors and celebrate your Gatlinburg day trip.
With these tips, we hope you'll end your day trip to Gatlinburg with a heart full of memories and joy.
Day Trip to Gatlinburg Itineraries
For the Outdoorsy
Morning:
Breakfast at Crockett's Breakfast Camp
Visit Clingmans Dome for panoramic views and a hike to the observation tower
Drive to Newfound Gap and hike the nature trail to Charlies Bunion
Afternoon:
Picnic lunch in the Great Smoky Mountains National Park
Explore Cades Cove Loop for wildlife sightings and historical buildings
Hike to Abrams Falls or Laurel Falls
Evening:
Dinner at the Alamo Steakhouse
Sunset walk along Gatlinburg's scenic Greenbrier River Walk
For Families with Small Children
Morning:
Breakfast at the Pancake Pantry
Visit Ripley's Aquarium of the Smokies for an interactive marine experience
Afternoon:
Lunch at the Old Mill Restaurant
Spend time at Anakeesta theme park for age-appropriate outdoor activities
Evening:
Dinner at a family-friendly restaurant, like Calhoun's
Explore Fannie Farkle's arcade for games and snacks
For the Sightseer
Morning:
Breakfast at the Pancake Pantry
Drive along the Blue Ridge Parkway and stop at scenic overlooks
Afternoon:
Lunch at the Old Mill Restaurant
Explore downtown Gatlinburg attractions like the Gatlinburg Space Needle and SkyLift Park
Evening:
Dinner at the Alamo Steakhouse
Enjoy a live music performance at Smoky Mountain Brewery or Ole Smoky Moonshine
For Couples
Morning:
Breakfast at Crockett's Breakfast Camp
Take a scenic drive along the Foothills Parkway and stop at overlooks
Afternoon:
Couples massage at a local spa
Lunch at the Greenbrier Restaurant, a romantic dining spot
Explore the Gatlinburg Arts and Crafts Community
Evening:
Dinner at the Peddler Steakhouse
Moonshine tasting at a local distillery, like Ole Smoky Moonshine or Sugarlands Distilling Company
For Those with Older Kids
Morning:
Breakfast at the Pancake Pantry
Explore Great Smoky Mountains National Park with activities like hiking or horseback riding
Afternoon:
Lunch at a local barbecue joint, like Bennett's Pit Bar-B-Que
Visit Ober Gatlinburg for skiing, snowboarding, or snow tubing (seasonal) and other attractions
Evening:
Dinner at the Smoky Mountain Brewery
Test your teamwork at a local escape room
For Those Who Wanna Try to Do it All
Morning:
Breakfast at Crockett's Breakfast Camp or grab a quick bite at the Donut Friar
Visit Clingmans Dome and hike to the observation tower
Drive along the Blue Ridge Parkway
Afternoon:
Lunch at the Old Mill Restaurant
Explore downtown Gatlinburg attractions like Ripley's Aquarium of the Smokies and SkyLift Park
Evening:
Dinner at the Alamo Steakhouse
Enjoy a live music performance at Smoky Mountain Brewery or Ole Smoky Moonshine
End the night with games at Fannie Farkle's arcade
Final Thoughts on a Perfect Day Trip to Gatlinburg
Gatlinburg is a charming, vibrant destination filled with an abundance of activities, attractions, and natural beauty that appeals to travelers of all ages and interests. From its picturesque surroundings in the Great Smoky Mountains to the bustling downtown area, a day trip to Gatlinburg offers unforgettable experiences and memories to cherish.
Whether you're an outdoor enthusiast, a family with young children, a sightseer, or simply looking to explore the best of what Gatlinburg has to offer, this enchanting mountain town has something for everyone. Plan your perfect day trip to Gatlinburg, and be prepared to fall in love with the magic and allure of this unique and charming small mountain town.
I hope you enjoy our beautiful home state!
Amanda