Lil Travel Folks is supported by its readers. If you purchase through a link on my site, I may earn a commission. Learn more
Gatlinburg is an amazing small town, and it's the perfect place to spend some quality time with someone you love, and there are many romantic things to do in Gatlinburg.
In this guide, we will show you the best romantic things to do in the Gatinburg area, whether you love adventure, the outdoors, or just want a low-key romantic getaway.
Book a Cabin with a Hot Tub
Hot tubs are super romantic, and in the Great Smoky Mountains there are a ton of cabins with hot tubs so you can soak with your loved one on your own private balcony. You're sure to find the perfect place for your cozy cabin rental with all of the great cabins out there.
If you are booking for a special occasion, I'd go for the one bedroom cabins that have a heart shaped tub and even rose petals on your bed. If you're booking for Valentine's Day, be sure to book early as these types of cabins go fast.
Find all the best cabins on VRBO here
Hike in the Great Smoky Mountains National Park
Gatlinburg TN is right outside the National Park, and it is full of hiking trails for all levels of hikers. There are short scenic hikes, like the hike to Clingmans Dome (which is closed in the winter) all the way to long hikes of over 8 miles.
See our guide to hiking in the Smokies here
Get a Couples Massage or Have a Spa Day
A couple's massage is the ideal way to unwind, and there are plenty of locations in Gatlinburg where you can get one. You'll certainly discover the perfect place to unwind and relax, whether you want a standard Swedish treatment or something a bit more unusual.
See the best day spas in the area.
Enjoy Heritage Carriage Rides Through Nearby Cades Cove
Cades Cove is one of the most well-known sites in the Great Smoky Mountains National Park, and for good reason. The 11-mile loop is wondeful with its historic buildings, natural views and abundant wildlife. A heritage carriage ride is one of the finest ways to view the cove, or you can take a scenic drive through the loop.
These horse-drawn carriage rides are led by knowledgeable guides who will share the history of the area with you as you ride.
Learn more about carriage rides here.
Visit Anakeesta
Anakeesta is a unique amusement park high above the city of Gatlinburg. You start in the downtown area and ride a Chondola to the top, where you'll find dining, adventures shopping, and breathtaking views.
Learn more about Anakeesta here
Visit Ripley's Aquarium
If you're searching for something unique, then Ripley's Aquarium in Gatlinburg is a fantastic choice. The aquarium houses over 10,000 marine animals, so you can explore the aquatic environment together. In addition to that, there are lots of hands-on activities available, such as stroking a stingray or jellyfish. You can even feed the rays at Touch a Ray Bay.
Learn more about the Aquarium of the Smokies here
Ice Skate at Ober Gatlinburg
For the most romantic experience, make sure you take the aerial tramway up the mountain for amazing views. It's a great way to both enjoy a unique activity and also get to the top of the mountain for your adventure.
Ice skating is available year round, and when it's winter you can also enjoy snow sports such as skiing, snow tubing and more. There is also an alpine slide, mountain coaster and wildlife encounter.
Learn more about Ober Gatlinburg here
Stroll Downtown Gatlinburg and Visit the Shops
A romantic evening in Gatlinburg's city center would not be complete without a stroll down the Parkway. Stop in at the stores and enjoy the sights and sounds of the Smokies as you walk down the Parkway hand-in-hand. Plus, when you're ready for a rest, there are several seats where you may relax and observe the people. You can even visit the Gatlinburg Space Needle while you're there.
Take a Tour on a Wine Trail
The Smoky Mountains have two wine trails, the Gatlinburg Wine Trail and the Rocky Top Wine Trail. On either of these trails, you get a passport to fill out, enjoy free wine tasting and get your passport stamped at each winery. You get a free gift and visit completely different wineries on the two trails, so why not try both?
Check out our guide to Gatlinburg wineries to learn more
Enjoy a Romantic Dinner at Gatlinburg's Finest Restaurants
Many restaurants offer a romantic meal with views of the Little Pigeon River. There are lots of romantic restaurants that are perfect for a date night. Some of the best local ones are:
Try Moonshine at One of the Great Local Distilleries
How about moonshine tasting – a unique experience to the Smokies? In Gatlinburg there is a small fee to taste moonshine (usually $5), but it's totally worth it and most distilleries will give you that money back to purchase something in their shops.
If you go to a distillery that isn't in the City of Gatlinburg, then a lot of them have moonshine tastings for free (there is a great Ole Smoky Moonshine Distillery by the Great Smoky Mountain Wheel at the Island).
See our guide to Moonshine Tasting in the Smokies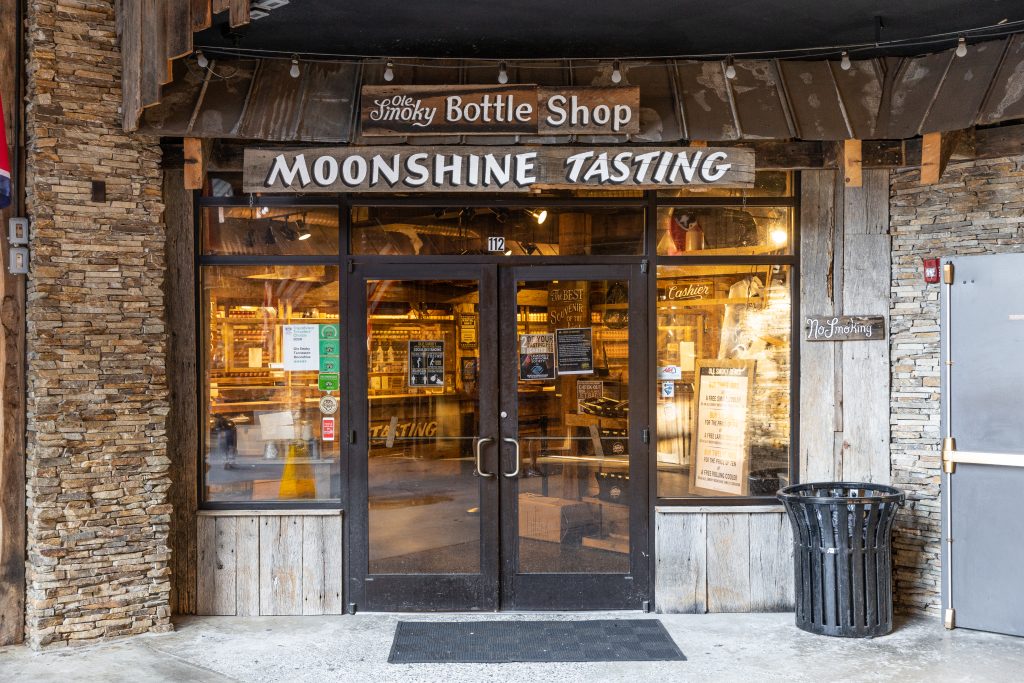 Take a Horseback Ride Through the Smoky Mountains
Going horseback riding in the Smokies is one of our all-time favorite romantic activities. There are a number of different companies to select from, but we've always enjoyed Cades Cove Riding Stables in the National Park. The horses are well-trained and the guides are extremely knowledgeable about the area.
Learn more about horseback riding in the Smokies here
Visit Gatlinburg SkyLift Park
Riding the Gatlinburg Sky Lift is a romantic activity that's been in Gatlinburg since the 1950's. This scenic chairlift ride is iconic in town, and it leads up to SkyLift Park, where you can find the amazing SkyBridge, the longest pedestrian bridge of its kind.
Learn more about the SkyLift Park here
Scenic Helicopter Tours
What's more romantic than flying together over the Smoky Mountains on a private helicopter tour? Depending on how long you wish to stay in the air, you can select from a range of different tour itineraries.
Visit Scenic Helicopter Tours website.
Conclusion
I hope we've given you some great ideas for your next romantic getaway. These are some of our favorite romantic things to do in Gatlinburg… before we had kids. Looks like we need to plan an adults-only vacation soon!