Lil Travel Folks is supported by its readers. If you purchase through a link on my site, I may earn a commission. Learn more
If you're looking for a romantic getaway for a special occasion or quality time with your partner (or even just a fun date night), Pigeon Forge is the perfect destination! With beautiful scenery, cozy cabins, and plenty of restaurants and attractions to choose from, there's something for everyone in this charming mountain town. Here are some of the most romantic things to do in Pigeon Forge!
Romantic Adventures
Hiking
For couples looking for a little adventure, hike to the top of Ramsey Cascades or explore the Great Smoky Mountains National Park together. Or, take a peaceful stroll through the Gatlinburg Scenic Overlook and enjoy the stunning mountain views. If you're looking for a more challenging hike, try your hand at climbing to the top of Mount LeConte.
See more about hiking around Gatlinburg and Pigeon Forge here.
Waterfalls
There's nothing more romantic than a waterfall, and Pigeon Forge has no shortage of them! Visit Grotto Falls for a chance to walk behind the 25-foot waterfall, or take a short hike to Abrams Falls. If you're up for a longer hike, try your hand at reaching the top of Rainbow Falls. For an easy and scenic waterfall walk, head to the Sinks.
Pack a picnic lunch while you're at it and eat at the falls! Learn more about the local waterfalls here.
Scenic Helicopter Tours
What could be more romantic than soaring above the Smoky Mountains together on a private helicopter tour? With a scenic helicopter tour, you can choose from a variety of different tour packages, depending on how long you want to stay in the air.
Visit Scenic Helicopter Tours website.
Ride the Thrilling Roller Coasters at Dollywood
This is by far our favorite theme park, and we love their roller coasters! Even before we had kids in tow, my hubs and I would make our way to Dollywood and ride the coasters – just the two of us. I'm not a big fan of heights, but I still love the roller coasters at Dollywood (even if I close my eyes as we are going up lol).
If you're looking for a thrill, make sure to check out the Wild Eagle, Mystery Mine, Lightning Rod, and Tennessee Tornado.
If you'd like it a little more low-key, try the Dragonflier, Fire Chaser Express or the Thunderhead wooden coaster.
And don't forget to ride the Rockin' Roadway while you're there – it's another romantic ride for the two of you.
Learn more about Dollywood coasters here.
Visit Nearby Ober Gatlinburg for Skiing, Ice Skating or the Alpine Slide
In the winter, Ober Gatlinburg is a great place for couples to enjoy some time together. You can hit the slopes for some skiing or snowboarding, or go ice skating at their outdoor rink. And, if you're feeling really adventurous, take a ride down the alpine slide!
Even if it's not winter, Ober Gatlinburg is still worth a visit. The aerial tramway is amazing and there is indoor ice skating.
Check out Ober Gatlinburg's website here.
Take a Horseback Ride Through the Smoky Mountains
One of our favorite romantic things to do is go horseback riding through the Smokies. There are a few different companies you can choose from, but we've always had great experiences in the National Park with Cades Cove Riding Stables. The horses are well-trained and the guides are very knowledgeable about the area.
Just the Two of You
Rent a Cozy Cabin with Hot Tub and Fireplace
If you're looking for a romantic getaway, there's no better place to stay than in a cozy cabin in the Smoky Mountains. You can find cabins with all the amenities you could want, including outdoor hot tub, fireplace and even a private indoor pool. Plus, most cabins are located in scenic wooded areas, so you can enjoy the peace and quiet of the Smokies – just the two of you.
Enjoy a Romantic Meal at one of Pigeon Forge's Fine Dining Restaurants
Pigeon Forge is home to some of the most romantic restaurants in the Smokies. From intimate Italian bistros to cozy steak houses, there's something for every taste. And, if you're looking for a truly unique dining experience, you can't go wrong with one of the restaurants on this list. Many of them have views of the Little Pigeon River.
Then, for dessert, why not try one of these amazing ice cream shops together in town?
Stroll Nearby Downtown Gatlinburg and Visit the Shops
Downtown Gatlinburg is the perfect place to spend a romantic evening together. You can stroll hand-in-hand down the Parkway, stopping in the shops and taking in the sights and sounds of the Smokies. And, when you're ready for a break, there are plenty of benches where you can sit and people watch. You can even check out the Gatlinburg Space Needle while you're there.
Enjoy Heritage Carriage Rides Through Nearby Cades Cove
Cades Cove is one of the most popular spots in the Great Smoky Mountains National Park, and for good reason. The 11-mile loop is scenic and full of wildlife. And, one of the best ways to see the cove is on a heritage carriage ride. These horse-drawn carriage rides are led by knowledgeable guides who will share the history of the area with you as you ride.
Learn more about carriage rides here.
Get a Couples Massage or Have a Spa Day
There's nothing more relaxing than a couple's massage, and there are plenty of places to get one in Pigeon Forge and Gatlinburg. Whether you're looking for a traditional Swedish massage or something a little more unique, you're sure to find the perfect place to relax and rejuvenate.
See the best day spas in the area.
Visit the Titanic Museum
As one of the most popular museums in Pigeon Forge, the Titanic Museum is a must-see for any couple visiting the area. The museum is designed to give you a firsthand look at what it was like to be on the ill-fated ship. You'll even get your own boarding pass with the name of an actual passenger or crew member and find out their fate as you go along the self-guided tour.
Learn more here about the Titanic Museum and other fun museums in Pigeon Forge.
Attend a Dinner Show
There are quite a few exciting dinner shoes in Pigeon Forge, from country music shows to pirate adventures. These shows are the perfect way to enjoy a romantic evening out, complete with a delicious meal. And, if you're looking for something truly unique, be sure to check out one of these dinner shows.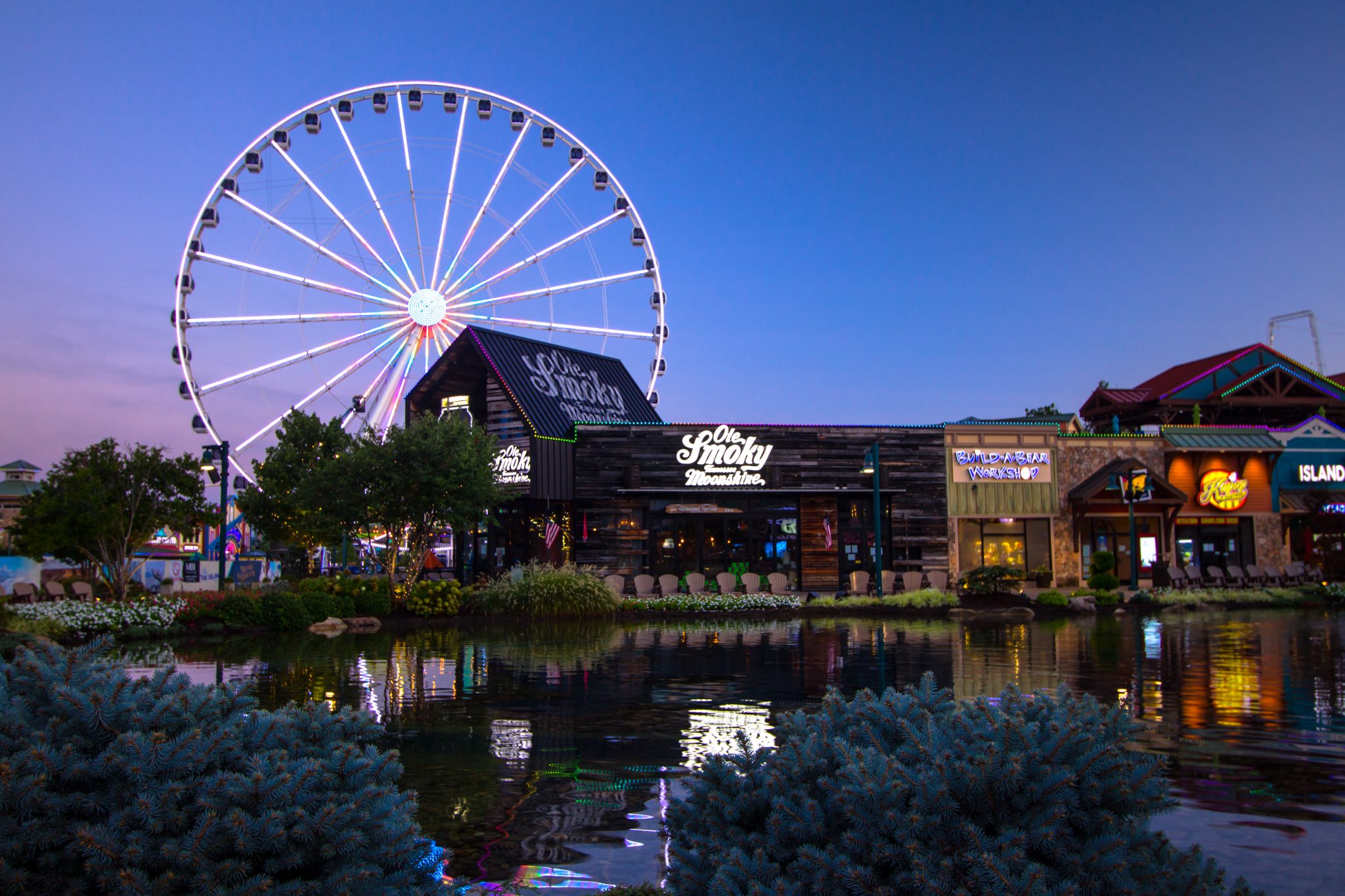 Feel Like a Kid Again
Ride the Great Smoky Mountain Wheel at the Island
The Island in Pigeon Forge is home to the Great Smoky Mountain Wheel, one of the tallest Ferris wheels in the country. And, it's the perfect place to enjoy a romantic view of the Smokies. The wheel is lit up at night, so you can ride it any time of day or night.
This ferris wheel is enclosed, so you can view the scenery in comfort from glass gondolas. There's no better way to catch a sunset and it's one of the best romantic things to do at the Island. It's worth riding at least once, and you can purchase tickets for multiple rides or even unlimited for a certain number of days.
Visit the Island's website here for tickets and pricing info.
Visit Dollywood and see the shows
Roller coasters not your thing? There is plenty more to do at Dollywood. The park is home to a number of shows, from musicals to country to gospel. And, if you come to Dollywood at Christmas, you can see musicians all over the park while you view the lights!
Visit Ripley's Aquarium in Gatlinburg
If you're looking for something a little different, Ripley's Aquarium in Gatlinburg is a great option. The aquarium is home to more than 10,000 sea creatures, so you can explore the underwater world together. Plus, there are plenty of hands-on opportunities, like touching a stingray or jellyfish. You can even feed the rays!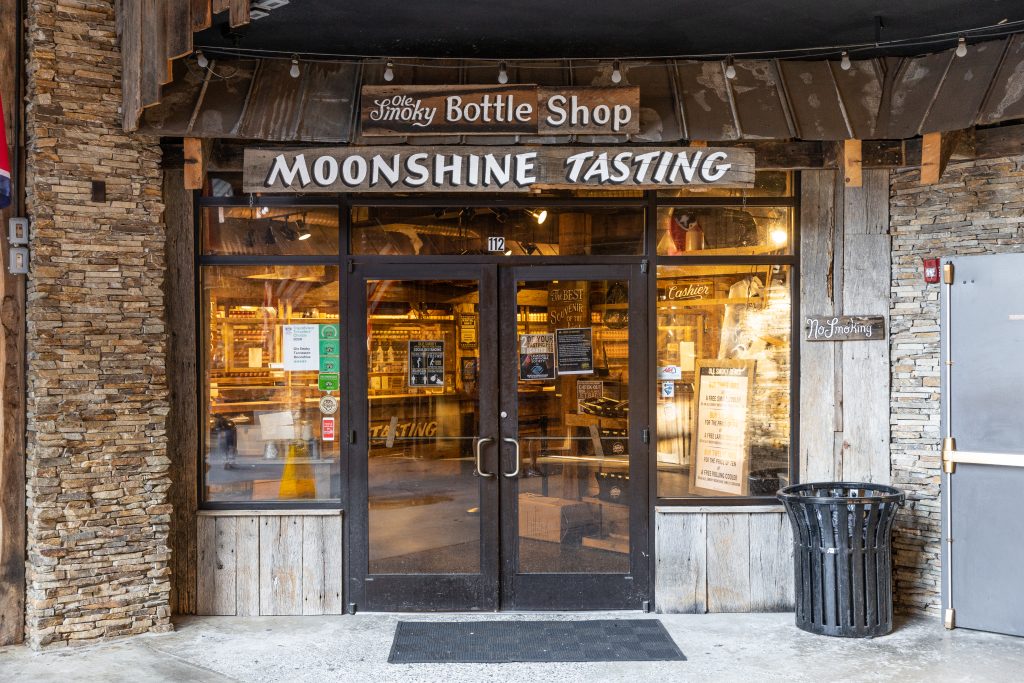 Adult Activities (No, Not That Kind!)
Now, if you want to truly be alone, we recommend cabin rentals and hot tub, for, ahem, "adult activities", but if you are looking for some no-kids-allowed things, here are a couple.
Rocky Top Wine Trail
The Rocky Top Wine Trail is a great way to spend a day (or two) exploring the area's wineries. With more than 5 local wineries and over 75 unique, high quality wines to choose from, you're sure to find one (or a few) that you love. Who can say no to free wine tasting?
Learn more about the Rocky Top Wine Trail here.
Moonshine Tastings
Or, if wine isn't your thing, why not try moonshine? The Appalachians are famous for their 'shine, and there are plenty of places to get it in Pigeon Forge and Gatlinburg. Ole Smoky Moonshine is one of the most popular, with a distillery right in the middle of Gatlinburg. And, as you can see from our photo of the Great Smoky Mountain Wheel, there is a shop there, too, so head over after a ride on the Wheel.
Learn more about Ole Smoky here.
Conclusion
I hope you've found something on this list of top romantic things in Pigeon Forge TN that sparks your interest. We love the Smokies and have been going there for years – first without kids and now we love to bring our four boys along (and sometimes not LOL!).
Pigeon Forge and Gatlinburg are two of the most romantic places in the country. With so many things to do, you're sure to find something that you'll love for your next romantic getaway. So, what are you waiting for? Pack your bags and head to the Smokies!