Lil Travel Folks is supported by its readers. If you purchase through a link on my site, I may earn a commission. Learn more
If you're looking for ways to visit Pigeon Forge on a budget, you've come to the right place. In this blog post, we'll discuss some tips and tricks for saving money while vacationing in Pigeon Forge. The best part of your vacation is the memories you'll make together, and that shouldn't cost a fortune.
Our family lives just three hours away from Pigeon Forge and we vacation there at least twice a year (usually more). So we are here to help you find the best places to score free activities and low-cost deals to popular places so you can make the most of your Pigeon Forge vacation.
We'll also recommend some ways our family personally saves money when we head to Pigeon Forge TN. So read on for information that will help you stretch your vacation budget in Pigeon Forge.
1. Stay in a cabin or campground
One way to save money while visiting Pigeon Forge is to stay in a cabin or campground instead of a hotel. There are many beautiful cabin and camping options in the area, so you're sure to find one that fits your budget, and you can often get a great deal in the off-season.
We like to stay in some local tiny cabins just outside Pigeon Forge in Sevierville, TN. They are affordable and include a full kitchen, so we only eat out once per day and do our own meals at the cabin for the other two.
This saves us quite a bit on going out to eat as we can hit up any of the local grocery stores to get some foods they like. We do breakfast and dinner at the cabin, so the only meal out is lunch.
For breakfast we like to just make some canned biscuits or other easy fare and for dinner they are kind of winding down anyways so we let them watch some TV to unwind before bed. Usually we have long days full of adventure without devices.
Staying in a cabin or campground will also allow you to experience the great outdoors of Tennessee.
Here is a picture of the last "tiny home" cabin that we rented – it had a loft, back bedroom for Mom and Dad, two bunk beds, a full kitchen AND a washer and dryer!
_________________
2. Eat at local restaurants
Another way to save money while in Pigeon Forge is to eat at local restaurants. There are many great local restaurants in the area that serve delicious food at a fraction of the cost of tourist traps. So be sure to ask around for deals, kids eat free promotions, etc.
All over the area there are discount shopping guides and coupon booklets, many of which have coupons for local eateries, so pick some up (my kids love them anyways!) and check them out.
You can also get free tastings of alcohol at the following places:
Old Forge Distillery
While you're in the area, swing by the Old Forge Distillery for some free tastings of hand forged Tennessee spirits. They have some unique offerings and you can sample some of them. The only downside is there are no tours.
Rocky Top Wine Trail
And while we're on the subject of tastings, the Rocky Top Wine Trail features 5 local vineyards and offers free wine tastings. If you're into wine, you're going to want to check out the local offerings, and this is a great inexpensive way to do it.
Ole Smoky Moonshine
This famous moonshine distillery offers free moonshine tasting, so if you've ever wanted to try some 'shine, this is the place to go! You can find them and their free samples at the Island in Pigeon Forge and also in Gatlinburg.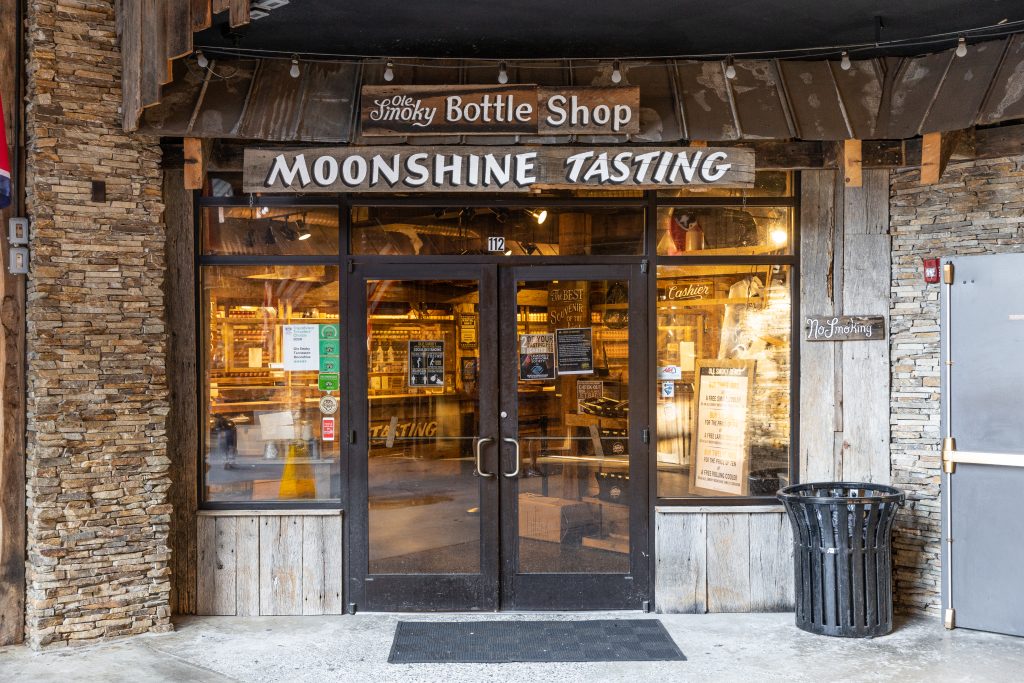 _________________
3. Avoid tourist traps
A third way to save money while visiting Pigeon Forge is to avoid tourist traps. These are typically overpriced attractions that are geared towards tourists. Instead, focus on experiencing the local culture and taking advantage of free activities.
If you really want to do some activities on the Pigeon Forge Parkway, some that I would suggest after years of traveling to the area are:
-Mini Golf (always fun, not too expensive and a ton of courses to choose from)
–Museums (such as the Titanic Museum or Alcatraz East Crime Museum)
-Visit a local candy store (we love watching the taffy being made!)
_________________
4. Take advantage of free attractions and activities
There are many great free attractions and activities in Pigeon Forge and the surrounding areas that you can take advantage of.
Some of our favorites include
The Great Smoky Mountains National Park
There are so many things to do in the Great Smoky Mountains National Park! It's the most visited National Park for a reason, and it's absolutely beautiful any time of year.
Hike along one of the many amazing trails and even picnic by any one of the area's amazing waterfalls. If you'd love an amazing view visit Clingman's Dome (but check the weather and dress appropriately because it can get very cold and windy!).
Tour Cades Cove, a loop trail by car that includes wildlife viewing and many historic buildings from the area.
Also, be sure to stop by the Sugarlands Visitor Center for tons of information about the park and things to do.
Patriot Park
This wonderful park is a tribute to the area's veterans. It features a walking trail along the Little Pigeon River, flags of all 50 states and all Armed Forces branches of the United States, and a Patriot Missle.
An added bonus is that Patriot Park is a great place to park and leave you car so you can ride the Pigeon Forge Trolley.
The Island Show Fountain
If you are headed to the Island for the Great Smoky Mountain Wheel, take some time to watch the free Island Show Fountain. The fountain dances to music and is a wonderful show.
At night it's lit up and even better!
Old Mill Square
The Old Mill is one of my favorite buildings in the area. It dates back to the 1800's and the square includes restaurants and specialty shops, so it's super fun to browse.
It's a great place to grab a meal, enjoy some famous ice cream, or shop for souvenirs at the General Store, Toy Bin, or Pigeon River Pottery. You can also pick up some homemade candy at the Candy Kitchen.
Area Playgrounds
If you have kids, take advantage of one of the area's local playgrounds to let them run around for a bit (while you rest on a bench!). We always go to the Wears Farm City Park that has two playgrounds – they have newer equipment and a lot of fun things for the kids. (Don't be fooled by that terrible photo at their website – these playgrounds are awesome.)
If you don't mind driving up the road just a bit to Sevierville, you can find the Mt. Ton of Fun Inclusive Playground at Sevierville City Park. It's great for the kids of all ages and ability levels. Local playgrounds are such a great way for the kids to have fun and run out some energy.
Here is a photo of the youngest at one of the playgrounds:
_________________
5. Use coupons
One final way to save money while visiting Pigeon Forge is to use coupons. Many businesses in the area offer coupons for their products and services, so be sure to ask around and look for them.
A lot of places in town have coupons, from restaurants to visitor centers. We love using some of the dining coupons available in the area's coupon booklets.
_________________
6. Plan ahead to save money on transportation costs
If you're planning on visiting Pigeon Forge, you can save money on transportation costs by planning ahead. One way to do this is to fly into the Knoxville airport and then rent a car for your stay.
Or, if you're driving to Pigeon Forge, you can take advantage of discounts and deals on parking and there is also the Pigeon Forge trolley, which is a super affordable way to get around town. The Pigeon Forge Trolley offers free parking for riders. (If you get to Gatlinburg, their trolley is free!)
Learn more about the Pigeon Forge Trolley.
_________________
7. Shop for souvenirs at local stores instead of tourist traps
When it comes time to buy souvenirs for your trip, be sure to shop at local stores instead of tourist traps. Local stores typically sell comparable items for a fraction of the price.
There are tons and tons of souvenir shops all along the Parkway, but try some of the out of the way shops. If you're in Gatlinburg, check out the Arts and Crafts Community and take a scenic drive as you find the most unique gift shop ideas from local artisans. There are lots of affordable things that you just can't get anywhere else.
_________________
8. Go during the off-season
If you're flexible with your travel dates, another great way to save money is to visit Pigeon Forge during the off-season. The shoulder seasons (spring and fall before October) are a great time to visit as the weather is still nice but the crowds are smaller.
You can get much cheaper hotel rooms during these times (we've gotten rooms for under $50 a night, the crowds are less and there are better deals on attractions.
_________________
If you're staying at a hotel, opt for one with amentities
With a family of 6, this is something that we try to do if we are not in a cabin or campground.
First, we look for ones with a free breakfast. Let's face it, meals can be expensive when traveling, so a free breakfast is something that will help with the budget, even if it is a basic breakfast of some toast, eggs and coffee.
We also like to stay at a hotel with a pool (when it's colder we look for an indoor pool, when it's warmer outdoor pools will do) as the boys like to swim and it's a great afternoon activity that doesn't cost us anything extra. This is another great spot for Mom and Dad to get a bit of rest on the sidelines while keeping an eye on the kids.
_________________
Conclusion
I hope this guide helps you plan your next trip to the Pigeon Forge area! It's a favorite destination for our whole family, from Mom and Dad all the way down to our preschooler.
There are so many fun things to do that don't cost a lot. Since we live close we invest in Dollywood Season Passes becuase our family is in love with roller coasters (totally worth it if you're going to be visiting more than three days in a year!) but we are always on the lookout for free and cheap things to do while we are in town!
Happy Vacation!
Amanda