Lil Travel Folks is supported by its readers. If you purchase through a link on my site, I may earn a commission. Learn more
Our family spends a lot of time at the Dollywood Theme Park in East Tennessee, and we have visited in every season. My first Dollywood adventure was way back when it was Silver Dollar City – before it was even Dollywood! Today, we are here to help you decide what to wear to Dollywood for the whole family.
The Smoky Mountains weather varies widely, so we will break it down by season so you can choose the best thing to wear depending upon when you go.
General Things to Know about What to Wear to Dollywood
Dollywood is an amusement park that is closed from January through mid-March every year.
We bring a backpack with us every time we go. We carry ponchos if there's a chance of rain in the forecast and our refillable mugs. Every ride has a place to set your backpack except for the water rides, and we just take them on with us and place them in a waterproof bag (we bring a ziploc). We've never had a problem with anyone bothering our stuff while we were riding. Plus it's a great place to leave your cell phones on rides that go upside down like the Wild Eagle.
If you don't want to bring a backpack, consider a fanny pack for holding your keys and phone.
Wear comfortable shoes! No matter what the season, it's never fun if your feet hurt by the end of the day. Use common sense when choosing your footwear.
You'll want to wear casual clothes that are comfortable, especially small children.
Some rides require shoes with heel straps, so leave the flip flops and slides at home just in case you want to ride all the rides.
Sunscreen is always a good idea, especially for young children. I am prone to sunburns so I have to wear it whenever we go, even when it's cloudy as we usually always stay most of the day. This is especially important if you choose to visit the neighboring water park, Splash Country.
What to Wear to Dollywood in the Spring (March-May)
Dollywood is closed from just after New Year's until mid-March. If you go when it first opens, the weather can vary wildly. We went to opening day in March 2022 and it snowed, which cancelled the actual opening day! April through June you can catch the Flower and Food Festival.
So check the forecast before you go, but here are some general recommendations.
Typical Weather for Spring in Dollywood
March: Average high is 63 and average low is 36. March averages around 11 days of rain.
April: Average high is 72 and average low is 43. April averages around 9 days of rain.
May: Average high is 78 and average low is 52. May averages around 11 days of rain.
(We love to go at the end of May when our schools get out – the weather is perfect and it's not crowded! This is the best time for our family to visit without long lines.)
What to Wear to Dollywood in the Spring
It's best to dress in layers when you go and always be prepared for a rain shower.
Outerwear: Light jacket for cooler nights or rain. Can be stashed in a backpack.
Tops: Depending upon that day's forecast, you could do a lighter weight long sleeved shirt in March all the way to a tank in May. If it's warm, wear a top that will dry quickly as you will more than likely want to ride the water rides.
Bottoms: I will wear jeans when it's cooler and shorts that dry easily in the warmer months. When we go at the end of May I wear comfy shorts that dry quickly, and the boys all wear athletic shorts.
Shoes: Tennis shoes are great for walking, and we usually always wear them, but try to choose some that will dry if you do the water rides. I've also worn comfortable sandals in the warmer months.
What to Wear to Dollywood in the Summer (June-August)
This is the hottest time of the year in the South, especially July and August, and it's also the busiest, especially July. You'll want to dress for heat and humidity – and also for the pop up thunderstorms that can come in the summer. You can catch the Summer Lights and Drone Show during this time.
Typical Weather for Dollywood in Summer
June: Average high is 84 with an average low of 60, although days can easily reach 90+. June averages 11 days of rain.
July: Average high is 87 with an average low of 64, but we have many days where the "feels like" temperature tops 100! July averages 12 days of rain.
August: Average high is 86 with an average low of 63, but again, it can get much hotter than this. August averages 11 days of rain.
What to Wear to Dollywood in the Summer
Don't let those average temperatures fool you – it can get HOT really quickly here in the South, and the humidity is unreal. Not quite Florida humidity, but pretty darn humid.
Outerwear: None, except for ponchos that we store in the backpack just in case.
Tops: Tee shirts and tank tops that dry quickly as you will definitely want the water rides on a hot summer day.
Bottoms: Comfortable shorts that dry quickly – again, you'll want to get wet.
Shoes: Comfy sandals or sneakers. Water shoes if you are planning on going to Splash Country. If you want to ride all the rides don't wear flip flops or slides or be prepared to take them off and leave them where the backpacks go.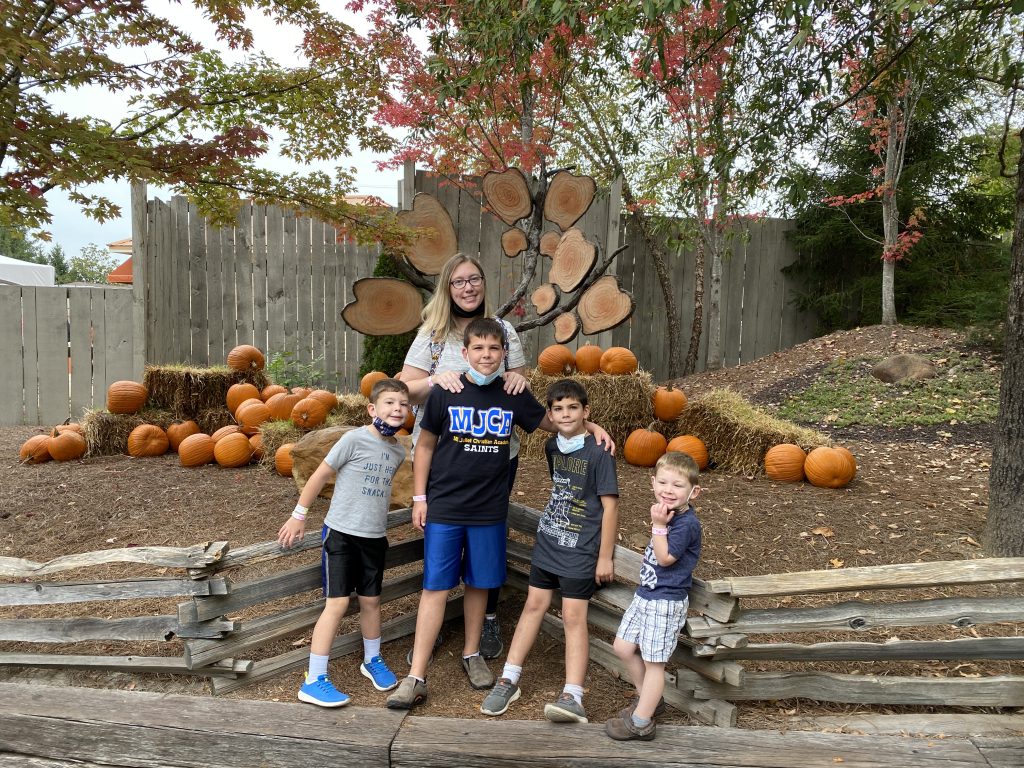 What to Wear to Dollywood in Fall (September-November)
Fall is an amazing time in the Smokies, with gorgeous colors in the trees and cooler temps than the summer. October is the second busiest month there, too, because of the fall foliage. It's a great time to visit the Harvest Festival and see the Great Pumpkin Luminights!
Typical Weather for Dollywood in Fall
September: Average high is 81 with an average low of 57. September averages 8 days of rain.
October: Average high is 72 with an average low of 45. October averages 6 days of rain.
November: Average high is 62 with an average low of 36. November averages 9 days of rain.
What to Wear to Dollywood in Fall
Fall is another time to dress in layers. The days may be warm, but the nights can get chilly. If you go in November you'll more than likely want long sleeves as it gets down pretty low at night. We always have a light rain jacket when we visit in the fall both for warmth and in case of rain.
Outerwear: Bring a light jacket that can both warm you and keep you dry if it rains. If it warms up, just stash it in your backpack.
Tops: Tee shirts for the warmer days and lightweight long sleeves for cooler days.
Bottoms: After September I put my shorts away and will wear pants (either jeans or comfy pants) the rest of the year.
Shoes: Tennis shoes or other comfortable close toed shoes after September. You can still wear your sandals in September but it starts getting chilly after that.
What to Wear to Dollywood for December
Since Dollywood isn't open January or February (except early January for a few days to catch the end of the holiday crowd), the only "winter" month they are open is December, and it's so much fun to go at Christmas!! They decorate the entire park in millions of lights for the Smoky Mountain Christmas event and still run all the rides unless it gets below 40 degrees, when some of the coasters have to shut down.
We love visiting Dollywood at Christmas and have made so many memories there.
Typical Weather for Dollywood in December
Average high in December is 53 and the average low is 30. December weather can be strange, because we've had several 70-degree Christmases and very little snow usually falls in December, even in the Smokies (except the higest elevations). December averages 10 days of rain.
What to Wear to Dollywood in December
Layers are key here as well, but you'll want warmer layers than the fall. Don't bother bringing a super heavy jacket as there will be times you'll want to remove it and it won't fit in a backpack. Just dress in several layers with a lightweight coat. Please note that they are closed Christmas Eve and Christmas Day.
Outerwear: Lightweight coat that is warm over your other layers.
Tops: Wear one or two long sleeve tops depending upon how cold it is that day.
Bottoms: Jeans or other warmer bottoms to cover your legs and keep them warm.
Shoes: Closed toed shoes that keep your feet warm and dry (in case it rains).
Accessories: You might want to bring a beanie and some gloves depending upon how cold it is when you are visiting. I would skip the scarves as you won't want them on rides. Hats and gloves are easy to stash in pockets or your backpack for when you don't need them (but you will want them when the sun goes down!).
Check out our guide to visiting Dollywood during the Christmas season.
Final Thoughs on What to Wear to Dollywood – our guide for all seasons
I hope you've enjoyed this guide to help you pack for your Dollywood trip! We love getting season passes and we've been there in all seasons and love each and every one. There's so much to see and do that our family never gets bored.
Now that you know what to wear to Dollyood, what are you waiting for? Head on out to the Smokies for your best vacation ever!
Want more Dollywood advice? See all the things there are to do at Dollywood!
Check out our guide to the best rides at Dollywood, the best roller coasters, how to check wait times on the Dollywood App and even the best food in Dollywood.