Lil Travel Folks is supported by its readers. If you purchase through a link on my site, I may earn a commission. Learn more
Headed to the Smoky Mountains and wondering "what is there to do at Dollywood?" We've got you covered with our guide!
Planning a visit to Dollywood, the world-renowned theme park located in the heart of the Smoky Mountains? This is our favoite place to visit, and we get season tickets almost every year and go at least once per season.  We can't get enough, so today we are here to share with you what you can do at Dollywood.
Dollywood is known for its unique blend of Southern hospitality, thrill rides and world-class entertainment, making it the perfect destination for families, thrill-seekers and anyone seeking a fun-filled vacation. Here are some of the top things to do at Dollywood:
– Enjoy thrilling rides such as Wild Eagle, Lightning Rod, Drop Line and more
– Take in excellent live entertainment shows that have won multiple awards
– Sample delicious food and drinks from multiple restaurants around the park
– Shop unique souvenirs and gifts at places like Craftsmen's Valley or The Grist Mill
– Visit the Eagle Sanctuary or see craftsmen at work
There is a lot more in store for you at Dollywood, so pack your bags and get ready for an unforgettable experience at Dollywood!
Where is Dollywood? How Do I Get There?
Dollywood is located in Pigeon Forge and getting to Dollywood from the surrounding region is easy.
Take Interstate 40 and Exit 407 toward Gatlinburg/Sevierville/Pigeon Forge on TN Hwy. 66S, which becomes US 441. When you arrive in Pigeon Forge take a left at the eighth traffic light and follow the signs to Dollywood (don't worry, you can't miss them!).
The nearest airport is McGhee Tyson in Knoxville, Tennessee, and you will take I-40 East to Exit 407.
How Do You Buy Tickets to Dollywood?
We usually buy season passes so we can go all year long (tip: they go on sale in early November and you can use them for the Christmas season PLUS all the next year!), but you an also get day passes and multi-day passes.
Tickets for the amusement park are valid for admission to the amusement park only, not Dollywood's Splash Country water park (which is a separate payment). Multi-day tickets and combos that include the water park can be bought.
Dollywood offers discounts on tickets for seniors (62 and above) and children (ages 4 to 9) as well as military discounts. Kids beneath 3 years of age have free admittance. Season passes are accessible online and at the gate.
I'd recommend buying your passes online as the lines at the gate can get long, and who wants to spend even more time waiting in line at an amusement park?
Learn more about online tickets here
When to Go to Dollywood
First of all, please don't try to go to Dollywood in January through mid-March or you'll be disappointed! The park closes during the coldest time of the winter for the Smoky Mountains, and it reopens right around the time kids are getting their spring break from school.
The best time to go is when kids are in school, honestly, but for our family that's not really feasible, so we go during the end of May/beginning of June when a lot of other states are still in school. We also try to go on weekdays if possible. Sunday afternoons clear out pretty well, too, a lot of times.
The busiest times are summer (especially July) and October when everyone comes into town to see the beautiful fall foliage.  Christmas and Thanksgiving times can get really busy, too!
See our insider's guide to the best time to visit Dollywood here.
Dollywood Rides
There are many fun rides for all ages! From small rides for the kiddos to thrill coasters. The whole family is sure to have a blast!
The biggest roller coasters in the park are the Wild Eagle, Lightning Rod, Mystery Mine, FireChaser Express, Thunderhead, Tennessee Tornado and the Dragonflier.  Big Bear Mountain is another that will be opening in Spring 2023 and the Drop Line is a 200-foot-tall drop tower ride.
There are other popular rides, too, including the Dizzy Disk, Sky Rider, Scrambler, Waltzing Swinger (shown above), bumper cars and others.  Another favorite ride of ours is the Blazing Fury, which I can remember riding when the park was still Silver Dollar City.  You can also find a wonderful selection of kid's rides including some that even infants can ride, and there are a couple of water rides for the warmer months.
You can check out our list for the kid's rides here!  The best places in the park to take small children is the Country Fair and Wildwood Grove, and this article will show you all the best rides for toddlers with pics of our own kiddos on them.
You can also check out our guide to the best rides at Dollywood here.
There is also the Dollywood Express, a coal-fired steam engine train that runs around the park and up into the mountains and is about a 20 minute ride.  It runs about every hour starting around noon or so.  If you go to the train depot you can see the schedule for the day, or check out the schedule on the Dollywood app.
The train is really popular and we don't ride it every time we go due to the long line. During busy times the line can top 2 hours! So get there early and bring some food to eat while you wait in line. When the park isn't as busy we usually ride.
Tip: Try to sit farther back on the train, as it is coal-powered and the ash blows back and can get in your eyes.
Dollywood Shows
There is a huge selection of shows and musical performances ranging from seasonal favorites, to country singing, to kids plays.
The entertainment at Dollywood, heavily influenced by Dolly Parton, is top-notch. It's a tossup between the coasters and the shows as to why you should visit; if the rides don't appeal to you, however, the shows are definitely worth checking out.
The park is filled with an incredible assortment of entertainment, and any time you take a few steps, you'll likely come across another show. Although these performances switch out regularly, their quality is always great. We also love that there are lots of pop up performances all over the park, too, such as musicians walking around with their instruments.
It is expected that the park will have an abundance of country music, such as the iconic sounds of the Smoky Mountain String Band. A show that stands out and is an integral part of Dollywood is "My People, My Music". It shares Dolly's story through music and some members from her family are part of the performers. Gospel music is included by The Kingdom Heirs (the Southern Gospel Museum and Hall of Fame can be found inside the park and admission is included). Even other genres like oldies and pop also make their appearance.
You can see all of the shows right here!
Dollywood Food
There's nothing more awesome than a great snack or meal. At Dollywood, they have lots! They have many great restaurants and great famous deserts like the Grist Mill's Cinnamon Bread and Giant Apple Pie!
Truly, Dollywood is home to some of the best food in Pigeon Forge. Sure, the park offers the usual theme park goodies such as funnel cakes and pizza, but that is just skimming the surface.
Dollywood is truly a haven for anyone who loves traditional Southern cuisine like meatloaf, smoked ham pit, pot roast, fried chicken, cornbread, sweet potato casserole, and pinto beans. Make sure to save space for dessert since Dollywood does not joke around when it comes to sweets!
The theme park's freshly prepared cinnamon bread is legendary and a portion of their 25-pound apple pie is something remarkable. To discover more about these delicacies, have a look at our guide to the best food at Dollywood.
You can see our guide to Dollywood dining here, and if you're vegan or vegetarian, we have a guide for you, too.
Dollywood Stores
Who doesn't love getting some merch? Dollywood has many options for clothes, souvenirs, and other stuff!
Dollywood stands out from the rest of theme parks in a lot of ways, particularly when it comes to shopping. In zones like Craftsman's Valley, you will find distinctive handcrafted products usually available only at upscale stores, not around a flume ride.
You can even discover some places with craft supplies where, with the aid of a specialist, you can build your own souvenir. An entirely different atmosphere awaits you as you explore our shops and crafting areas. Instead of just breezing past these outlets, take a peek inside and search for something you will remember every time you see it.
Here are some of the great themed stores you can find:
Dolly's Closet showcases clothing that looks like what Dolly herself would wear. It's catch phrase is "Her style, your size."
Mountain Laurel Home has oodles of home decorations and playthings for youngsters
Hillside General Store contains all sorts of kitchenware, interior designs, plus more
To leave the park, you have to walk through The Emporium, which is where you can purchase any Dollywood-themed presents, such as tees, magnets, and other keepsakes!
Of course there are many other great stores around the park, too.
Check out all the stores Dollywood has to offer right over here!
Other Things to Do At Dollywood
Let the kiddos play at a playground.  There are several outdoor playgrounds in the park, and even one huge indoor playground called Hidden Hollow (found in Wildwood Grove).  This is such a great break when it's too hot or too cold out, and the outdoor ones are great in good weather.
Visit the Craftsmen.  In the aptly named Craftsman's Valley area of the park, watch leatherwork, mountain blown glass, black smithing, candle making and more in the artisan shops.
Learn about Dolly.  You can find a replica of Dolly Parton's childhood home, a small one-room schoolhouse and even learn all about her life at the Chasing Rainbows Museum.
Visit the Country Fair.  In addition to typical fair rides, you will also find fair-style games to try and win prizes.  It's a lot of fun and this is where you will find the smallest rides for young children.
Visit the Birds.  Dollywood has the largest non-releasable population of American Bald Eagles, and you can visit them at the Eagle Mountain Sanctuary.  They also have other birds to view and even the Wings of America show, which is really neat.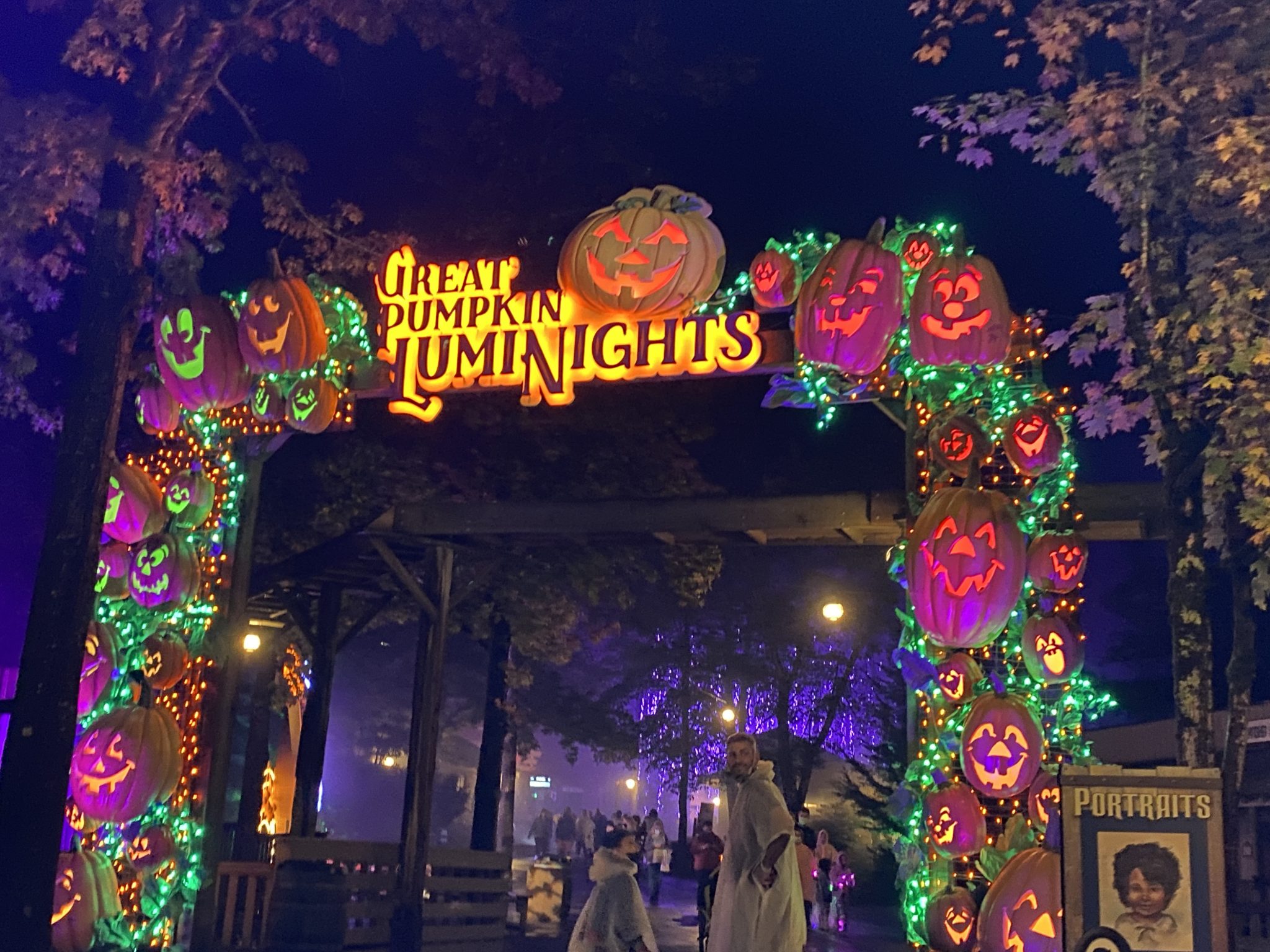 Dollywood Festivals
Every season, Dollywood has a certain festival going on! Dollywood is known as much for its popular festivals as its rides and shows. The festivals are included with the price of admission, too, except for the tasting passes, which are optional and allow you to try seasonal foods all over the park.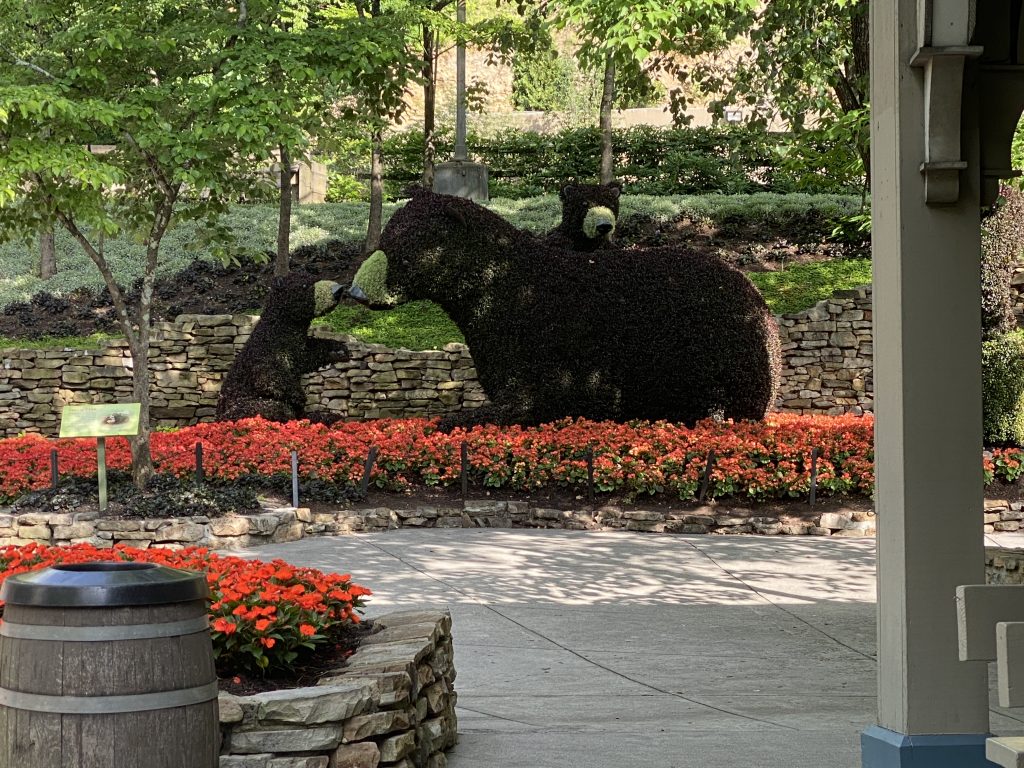 Flower and Food Festival
Mid-April to Early June
Admire the stunning floral sculptures and sample the delectable creations by the chefs at Dollywood. These sculptures are huge and we really enjoy this festival. It's the perfect temperature to visit the park and the food is delicious.
Smoky Mountain Summer Celebration
Mid-June to Mid-August
You can enjoy longer hours, nightly fireworks and drone show, and top-notch entertainers from across the country. It's really amazing and the park comes alive at night!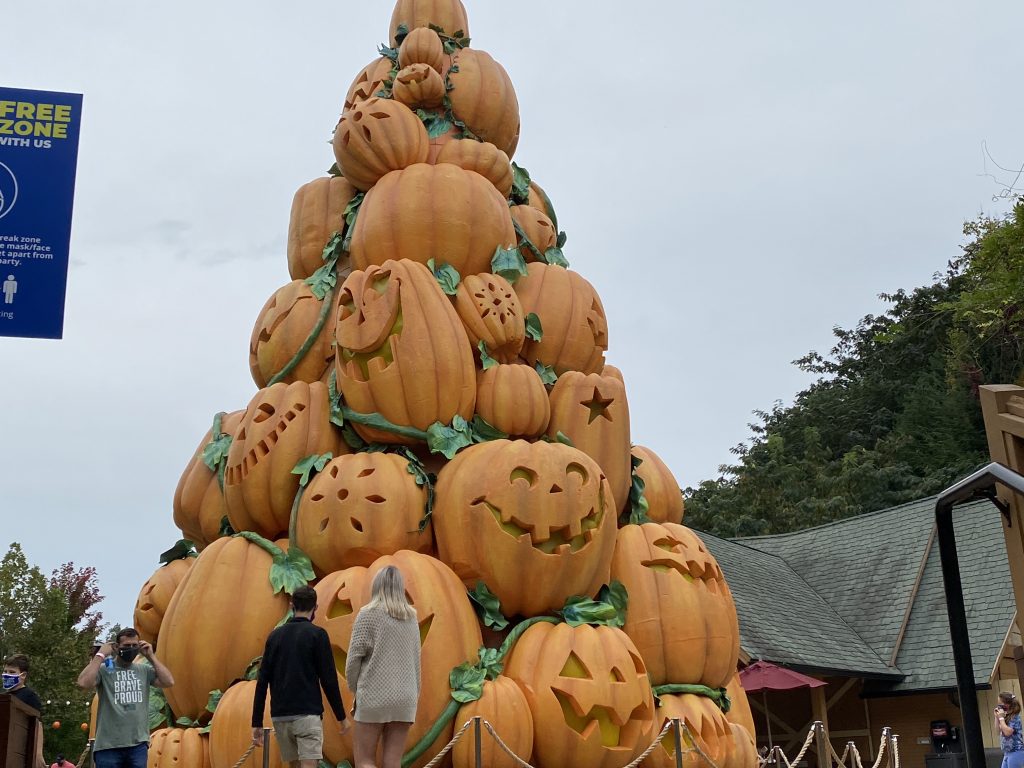 Smoky Mountain Harvest Festival
Mid-September to Late October
At this event, you'll find hundreds of free gospel concerts, artisans, amazing jack-o'-lantern displays and special autumn treats. We really love coming during this festival as you can see so many artisans that come from around the country to set up shop and show you their crafts. You can buy unique hand-made goods from them, too!
Smoky Mountain Christmas
Early November to Early January (park closes by Jan. 4th depending upon the calendar)
Visitors can experience a magical night full of millions of twinkling lights, spectacular Christmas shows, and festive holiday activities (like Santa!). Rides are still open at Christmas, too. They only shut down if the temperature drops below 40 (and not all of them will close).
You can see all of the Seasonal Festivals here!
Insider's Tips for What to do at Dollywood
Here are some of our family's favorite tips from our trips to Dollywood to help you make the most of your visit.
Use the Dollywood App to check ride wait times, show schedules, and to find the nearest food or bathroom.  You can also check ride height requirements, and find nursing areas.  This is the best way to see accurate wait times, so I'd suggest downloading it before you get to the park.  (Note that you can't see the ride wait times until you are very close to the park or inside it.)
If you have children under 48″, take them to the measuring station to get a wristband. It will save you time and headache. Enter the park, then turn to the left. It's not very far into the park.
Ride to the park for free.  When we get season passes we always get my husband the one that has free parking, but if you are coming for a day or two, be aware that parking is $25!  If you want to ride for free, park at Patriot Park in Pigeon Forge and take the Pigeon Foge trolley (it's a very small fee) right to the gate.
Come early. The park will allow you in before official opening, and if you have a Time Saver pass they will open one attraction early before the rest of the guests. We go as far as they allow you to go in the park, then at official "opening" time we go straight to what we want to ride first (last time it was the FireChaser Express, as this often has a long line!). We barely had to wait at all.
Be aware that the park is only open every day of the week during certain times.  There has been more than one time that I planned a vacation only to realize Dollywood wasn't open on a Tuesday (for example) and we had to find something else to do that day.  (Check the 2023 Dollywood operating calendar here).
Save money on food. Eat before you come and if you are parking in the parking lot pack a cooler, take the tram to a picnic at the car, and ride the tram back to the park.
All rides have an area to leave your belongings, except Smoky Mountain River Rampage and Daredevil Falls, so make sure to keep your items dry (or get a locker). Otherwise, you can leave your stuff in a cubby and it's there when you get back. We take a backpack to keep up with our refillable mugs and never have any issues.
Dollywood does have a parent swap option if you need it. Just wait in line with the family and tell the ride operator you are doing the parent swap.
You can bring in one bottle of water per person. Also note that you can ask for cups of ice water at most food locations for free.
Only get a TimeSaver Pass if the park is super crowded, because wait times usually are not bad and can be checked via the app.
Where to Stay Near Dollywood
Dollywood's DreamMore Resort
This is the ultimate if you are wanting a true Dollywood vacation. They have packages that include discounted tickets, rooms with bunk beds, and a special trolley service that takes to straight to a special entrance in the park.
If you have kids, they will love the Camp DW activities.  See more about the DreamMore Resort for kids here.
Check out Dollywood's DreamMore Resort here
Courtyard Marriott Pigeon Forge
This hotel is 15 minutes from the park and has indoor and outdoor pools, lobby games, fire pits, clean rooms and a lot more. It's a good one for families, and you can walk to some restaurants and activities.
Check out Courtyard Marriott Pigeon Forge here
Westgate Smoky Mountain Resort
This resort is located between Gatlinburg and Pigeon forge and is beautiful.  There is also an indoor water park you can add to your stay that will give you something else to do besides Dollywood (like maybe on a day the park isn't open?).  We've stayed several times and always had fun.
Check out Westgate Resort here
Wilderness at the Smokies
Here is another water park resort, although it is located farther away in Sevierville.  We don't mind staying a bit farther away and driving in to the park.  This includes admission to the water park(s) in the hotel stay, and they have a wonderful indoor water park that is great for all ages as well as a couple of outdoor water parks when the weather is nice (usually Memorial Day to Labor Day).
We've done the Wilderness several times with all ages of our kiddos (from infant on up) and always enjoyed it.
Check out Wilderness at the Smokies here
Final Thoughts on What to Do at Dollywood
Well, I hope this guide has been helpful for you planning out your Dollywood adventure. Everyone will find lots to do at this famous theme park, from thrill seekers to babies. We have friends who buy season passes and don't even like rides! They go for the shows, food and other entertainment.
Give Dollywood a try and see why we love it so much. You won't be disappointed!