Lil Travel Folks is supported by its readers. If you purchase through a link on my site, I may earn a commission. Learn more
If you're headed to Dollywood for a Smoky Mountain vacation, you will definitely want to know the best way to see Dollywood wait times.
We've been to Dollywood several times a year for the past several years, and today we're going to help you navigate the best way to see live wait times – on the Dollywood app!
Download the Free Dollywood app
Before you begin, you will need to download the Dollywood app. It's completely free and you can download it on both Apple and Android devices.
Once you download the app, you can use all the features – but be aware that the ride times only show up when you are inside the park, or close to it (I've checked ride times when we were waiting to get into the parking lot but haven't tried it further away).
Explore the park before you go
You can use the app to plan your visit to Dollywood. You can view all of the rides, shops, restaurants and shows on the app and plan your route.
For example, a couple of our favorite places in the park are Wildwood Grove and the Country Fair. We also love the roller coasters and we have kids ranging from preteen down to preschool, so we need to hit areas that are fun for everyone.
So we plan our route based on what we want to do most that day. If it's Wildwood Grove that's the priority, we start our day up toward Timber Canyon and then work around the rest of the park. If it's the Country Fair, then we're going the opposite direction when we walk in the gate.
If you're new to Dollywood you can check out which route you'd like to take and hit all the rides you want to see. (You can check out our guide for how to pick the right Dollywood rides for you here!)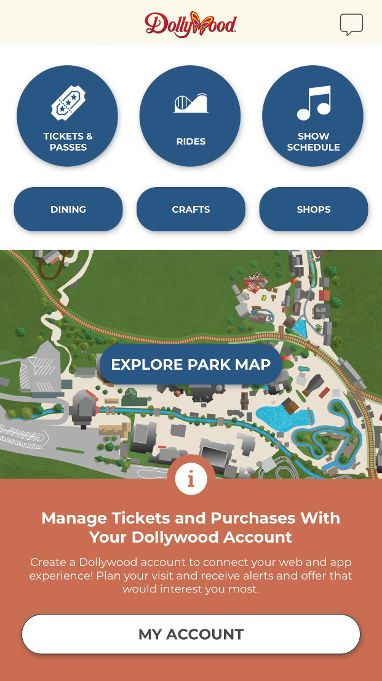 Purchase Tickets and Passes on the App
You can click the "Tickets and Passes" on the app's home page and buy tickets straight from the app!
It shows all the prices for the single day tickets, two and three day tickets, and even special offers for Dollywood's Splash Country water park. There are also options for multi-park passes (both Dollywood and Splash Country) and there are season pass options for the year.
If you've already purchased your tickets online, you can log in via the app and connect your account.
View Ride Wait Times, Show Times and the Interactive Map
Ride Wait Times
Okay, that's what most of us are here for – to check the ride wait times!
When you are in or near the park, you can view all the ride wait times by clicking the "rides" tab. There you will see the rides in a list form, usually listed by how close you are to the rides, so you'll see those nearest you first.
Sometimes the rides are listed by wait time, so you'll find the ones with no wait first, and they are in order by how long you will have to wait to ride.
You can scroll down through the list to find the rides you are interested in, or you can choose the "map view" in the top right corner and find ride times via the interactive map.
These update frequently, so this is absolutely the BEST way to find Dollywood wait times! I've seen some other websites that claim to have live wait times, but none of them compare to the actual app.
Show Times
Want to catch a show while you're there? No problem! With the Dollywood app you'll be able to easily find the "Show Schedule".
First you'll see the Spotlight, which tells the major events going on that day. While I'm writing this, it's summer, so the first thing I see is the Smoky Mountain Summer Celebration. If you click on it, you can find out more information.
Dollywood usually always has some kind of special event going on. The park opens in March, and the Flower and Food Festival begins in April, then you can find the Summer Celebration beginning in June. The Harvest Festival with the Great Pumpkin Luminights begins in late September and runs through the end of October, and finally the Smoky Mountain Christmas runs from early November through New Year's, so there's always something going on.
Below that is a list of upcoming shows based on show times. It will give you the time the show starts, how long the show lasts, and where you can find it.
Interactive Map
There is also a tab at the bottom for "map" and this will take you to the interactive map where you can find out everything you need to know about getting around Dollywood.
You can filter based on what you want to see:
Rides and Attractions
Dining
Shop Unique Stores in Pigeon Forge
Crafts
Restrooms
First Aid & AED Locations
Accessibility
Guest Services
Theaters & Venues
Parking & Transportation
Smoking Areas
Vaping Areas
Clicking on one of these will easily show you where you can find these areas in the park. One thing I don't see on there that I know Dollywood has is mother's rooms, so if you are nursing a baby there are areas in the park available for that.
The dining option can be very helpful, too, as there are lots of options for dining in the park (see our guide to the Best Food in Dollywood here). This can help you scout out the options so you can choose what's best for you and your family.
Final Thoughts
The Dollywood app is, hands down, the best way to see live wait times while you're in Dollywood theme park. It's also very helpful for planning your Great Smoky Mountain vacation before you go, and for finding things to do while you're in East Tennessee.
Here are some of our favorite rides at the park, in case you're curious: The Blazing Fury, Wild Eagle, Firechaser Express, Mystery Mine, Dragonflier, and Lightning Rod just to name a few. Oh, and don't forget to swing by the Grist Mill and get some of the world famous cinnamon bread!
If you haven't downloaded it yet, be sure to do so before your next visit!
I hope you enjoy one of our family's most favorite places in the world!
Amanda