Lil Travel Folks is supported by its readers. If you purchase through a link on my site, I may earn a commission. Learn more
Planning a trip to Dollywood and wondering "can you do Dollywood in one day"? Fear not, because we're here to help you make the most of your visit to this Smoky Mountain gem.
With a wide array of thrilling rides, entertaining shows, and scrumptious food, Dollywood is a must-visit destination for all ages. In this article, we'll share some strategies to ensure you maximize your enjoyment during a single-day visit.
First, it's essential to know that, yes, it is indeed possible to experience the best of Dollywood in one day.
With careful planning and a few insider tips, we can guide you through an adventure-packed day filled with the highlights of this incredible theme park. From choosing the right day to visit to prioritizing which attractions to see, we'll provide the necessary advice and resources to help you make the most of your time at Dollywood.
As we dive into this topic, remember that the key to a successful one-day visit is to be strategic and flexible. While it might not be possible to see every single attraction and show, with our guidance, you'll be able to enjoy the very best that Dollywood has to offer, creating cherished memories that will last a lifetime. Let's get started on your perfect day at Dollywood!
Planning Your Dollywood Day
Best Time to Visit
Choosing the right time to visit Dollywood is crucial for enjoying your day to the fullest. While it's possible to experience this amazing theme park in a single day, you'll want to make the most out of your time there.
Based on our experience, we recommend visiting during off-peak times such as weekdays and non-holiday periods and when school is in, if possible. This will help you avoid long lines and allow you to experience more rides and attractions. To help you plan your visit, you can check the Dollywood Theme Park Calendar for the estimated crowd levels.
See our complete guide to the best time to visit Dollywood here
Buying Tickets and Season Passes
Before setting foot in Dollywood, you'll need to decide if a single-day ticket, multi-day ticket or a season pass is the best option for you. Here's a quick comparison of the options:
Single-Day Ticket: This is the perfect option if you only plan to visit Dollywood once during the year. Prices vary depending on the time of year, so check the official website for the most up-to-date information.
Multi-Day Ticket: There are two day and three day tickets that will save you money off buying individual single-day admissions. It's around $20 more to add on another day, so if you are considering going for more than a day I would choose this option.
Season Passes: If you plan on visiting Dollywood multiple times, a season pass might be a better choice. It offers unlimited access to the park throughout the season, as well as other perks and discounts. Head over to the Dollywood Season Passes page to learn more about the benefits and pricing.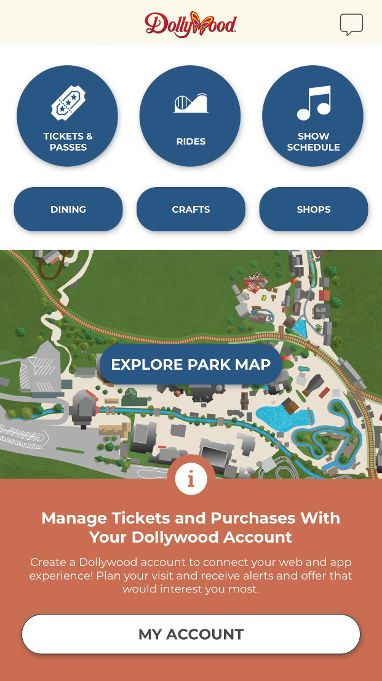 Using the Dollywood App
We highly recommend downloading the Dollywood app (available on Android and iOS), as it will significantly enhance your park experience. This handy app helps you plan your visit, offering up-to-the-minute ride wait times and daily entertainment schedules.
In addition, the app provides a park map, making it easy for you to navigate the park and plan your stops efficiently. By using the Dollywood app, you can ensure that you'll make the most of your single day at the park.
See our guide to using the app to check ride wait times and more!
Top Attractions and Rides
Dollywood is an exciting theme park in the Smoky Mountains, and while it may be challenging to cover everything in one day, it's definitely possible with proper planning. In this section, we'll take a look at some of the top attractions and rides that you shouldn't miss during your visit.
Roller Coasters
If you're a thrill-seeker, you'll definitely want to check out the roller coasters at Dollywood. Some of the most popular ones include:
There are also several other great coasters in the park and you can see them all here.
Family-friendly Rides
Dollywood also offers plenty of family-friendly rides that cater to guests of all ages. Some of our favorites include:
Dollywood Express: Hop aboard this authentic steam train for a scenic tour through the beautiful Smoky Mountains.
Rockin' Roadway: Younger visitors will love this classic car ride where they can take the wheel and cruise down the track.
Sky Rider: Take to the skies on this family favorite ride, where guests of all ages can control the height of their own personal gondola.
Find the complete list of rides for the youngest family members here
Water Rides
If you're looking for a way to cool off, don't miss Dollywood's water rides. The park offers a few fun options:
Daredevil Falls: This water-based roller coaster features a heart-stopping 60-foot drop that ends in a giant splash.
Smoky Mountain River Rampage: Climb aboard a raft and navigate the twists and turns of this white-water adventure.
See our guide to the water rides at Dollywood here
By prioritizing these top attractions and rides, you can make the most of your day at Dollywood and create lasting memories with your friends and family.
Entertainment and Live Shows
Live Music
At Dollywood, we can't help but tap our feet to the rhythm of live music all around the park. Many talented musicians take to the stages, offering a diverse range of performances to suit all tastes. From traditional country and bluegrass to classic rock and pop hits, there's always a tune to keep us entertained. You can even catch performances featuring songs by Dolly Parton herself!
Gospel and Country Music
As fans of country and gospel music, we appreciate that Dollywood showcases these genres on several stages. One must-see is the Southern Gospel Museum and Hall of Fame, where we can learn about the history and influence of this genre in the Great Smoky Mountains National Park area. Additionally, the park hosts various country and gospel festivals throughout the year, like the Harvest Festival and Christmas at Dollywood, where we can enjoy even more live performances.
Remember that, depending on the season and day, specific show schedules and availability may vary. It's essential to plan your visit accordingly to ensure you can see as many live performances as possible. While one day might be enough for some, considering all the entertainment options, you might want to come back and enjoy more amazing shows at Dollywood!
Tips for Maximizing Your Experience
Managing Ride Wait Times
Long lines can be a concern on busy days at Dollywood. To help manage wait times, we recommend visiting popular attractions first thing in the morning or just before closing. This will help avoid peak wait times, which tend to occur in the middle of the day. Additionally, remember to download the Dollywood app to keep track of current wait times and efficiently plan your day.
Navigating the Park with an Interactive Map
To make the most of your time, it's important to familiarize yourself with the park layout. Using an interactive map will help you easily navigate the park and ensure you're able to experience everything on your to-do list. The Dollywood app also provides an interactive map to help you locate nearby attractions and amenities.
Using a Timesaver Pass
A Timesaver Pass can be a game-changer for your one-day Dollywood experience. For an additional charge, this pass allows you to skip the lines for select attractions, saving you crucial time. This pass can make all the difference in helping you make the most of your day at the park.
Here are some other pro tips to ensure you have a stress-free and enjoyable day at Dollywood:
Arrive early to ensure free parking and ample time for park exploration throughout the day. We like to get there about 30 minutes before the park officially opens to be inside when the rides open up
Plan your day around showtimes, as these are set throughout the day and shouldn't be missed. The shows here are truly incredible.
Schedule water rides for the late afternoon to avoid walking around the park soaking wet. If it's a really hot day this won't matter, as you will dry off pretty fast. I also try to wear clothing that dries quickly when I know we will be riding the water rides.
By following these tips, we're confident you'll maximize your Dollywood experience and make lasting memories during your one-day visit.
Special Events and Festivals
Harvest Festival
At Dollywood, they love to celebrate the seasons, and the Harvest Festival is no exception. During this event, you'll find the park filled with festive decorations, live music, and traditional crafts.
The Harvest Festival highlights the beauty of autumn in the Smoky Mountains, providing them with an opportunity to showcase the park in all its colorful glory.
The park is decorated with thousands of pumpkins and fall decorations, and the views from the taller rides are spectacular.
Fower and Food Festival
One event that we can't help but rave about is the Flower and Food Festival. Dollywood takes great pride in offering a diverse assortment of delicious dishes at the Food Festival.
You'll have the chance to sample a variety of unique flavors and culinary creations, allowing you to explore the tastes of different regions and cultures.
This event happens April – early June and you can find amazing decorations all over the park like the picture above.
Great Pumpkin LumiNights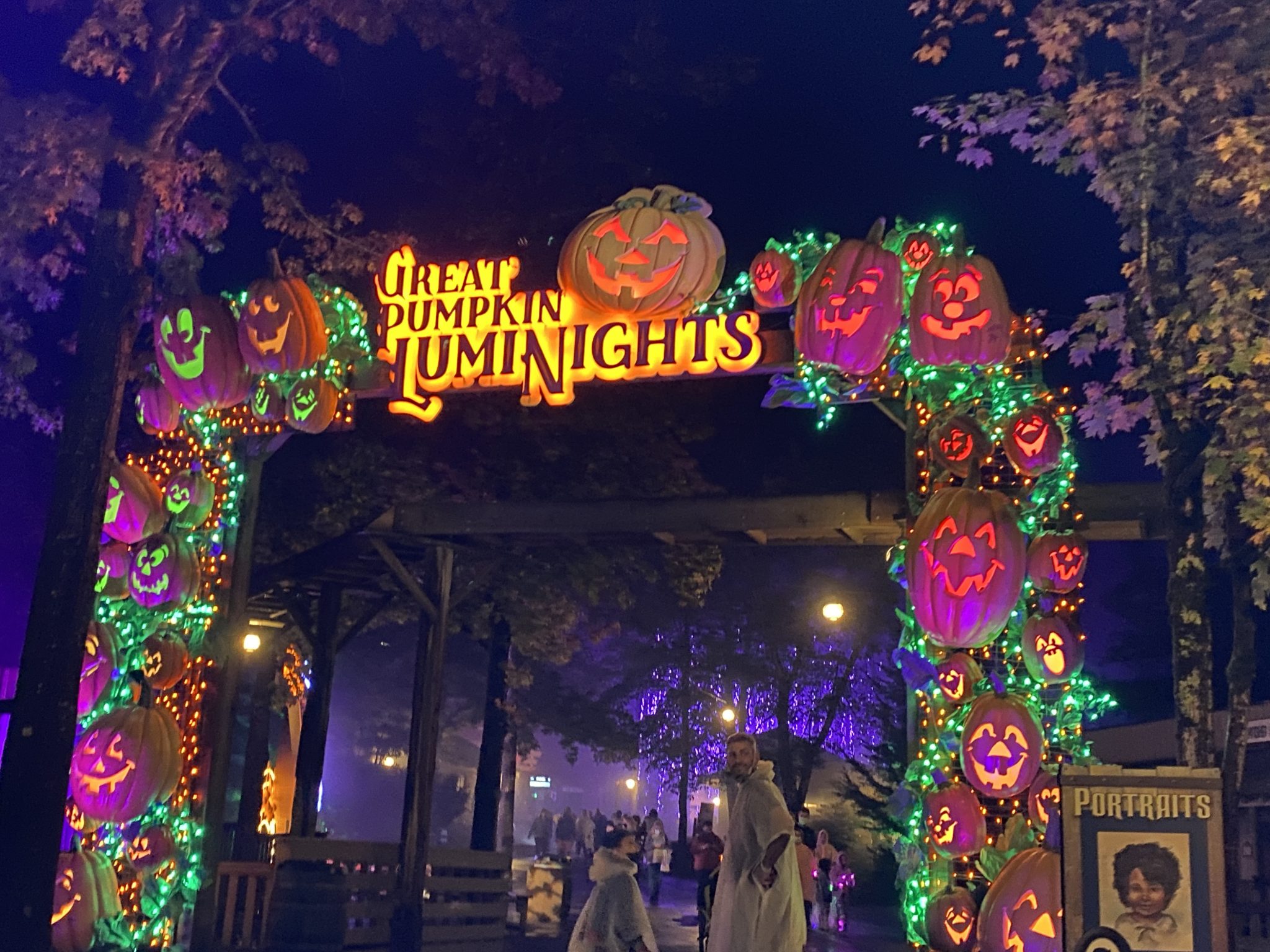 As the season transitions to fall, they also celebrate the magic of Halloween with Great Pumpkin LumiNights.
Don't worry if you have little ones, there's nothing spooky about the Great Pumpkin LumiNights! You'll find thousands of real carved pumpkins and pumpkin sculptures.
The park is truly magical with all the glowing pumpkins!
Smoky Mountain Christmas
Last, but certainly not least, the Smoky Mountain Christmas event brings the joy and merriment of the holiday season to Dollywood.
The park closes down for a week after the Harvest Festival to transform into a winter wonderland. There is live holiday entertainment, a dazzling display of Christmas lights (millions of them!), and a chance to meet Santa himself.
This festive event is sure to lift your spirits and create lasting Christmas memories for years to come. This is the one time of year we try to visit each and every year, but be aware the weeks of Thanksgiving and Christmas get crazy (trust me, we've tried both!).
Throughout the year, our lineup of special events and festivals at Dollywood is designed to provide our visitors with a memorable experience. Whether it's the vibrant colors of the Harvest Festival, the mouthwatering flavors of the Food Festival, the mesmerizing glow of Great Pumpkin LumiNights, or the enchanting atmosphere of Smoky Mountain Christmas, we strive to create unforgettable moments for our guests.
Dining Options and Delicacies
Dollywood offers a variety of delicious dining options for visitors to enjoy during their one-day visit to the theme park. In this section, we'll cover some must-try delights, including the famous Grist Mill, Aunt Granny's Restaurant, and the heavenly Cinnamon Bread.
Grist Mill
The Grist Mill is a Dollywood staple and a must-visit for everyone. This historic, working mill is known for producing some of the park's most delectable treats. We highly recommend grabbing a bag of stone-ground cornmeal to take home with you as a souvenir.
Besides cornmeal, the Grist Mill is famous for its mouthwatering Cinnamon Bread. If you're a fan of sweet treats, you won't want to miss out on this iconic Dollywood delight.
Let's delve deeper into the famous Cinnamon Bread offered at the Grist Mill. This delicious treat has become a fan favorite at Dollywood, and it's easy to see why. The warm, freshly-baked loaf of bread is coated in a sweet cinnamon glaze, making it a must-try for visitors with a sweet tooth.
As we stroll through the park, the irresistible smell of Cinnamon Bread wafts through the air, tempting us to indulge in this iconic Dollywood delicacy. Trust us, it's worth every single bite!
Aunt Granny's Restaurant
Aunt Granny's Restaurant is another beloved dining spot within Dollywood. This buffet-style eatery offers a wide variety of tasty dishes, perfect for satisfying the entire family's appetite. From fried chicken to locally-inspired southern cuisine, there's a little something for everyone.
Aunt Granny's is known for its warm, inviting atmosphere. It's the perfect spot for us to rest our feet and enjoy a delicious meal while experiencing the theme park's unique southern charm.
See all the dining options at the park here
Staying at Dollywood's Dreammore Resort
When planning our Dollywood trip, we couldn't miss the opportunity to stay at Dollywood's Dreammore Resort. This beautiful resort offers a charming and comfortable place to rest and relax after a long, fun-filled day at the Dollywood theme park.
Located near the park, Dreammore Resort provides privileges for its guests, enhancing the Dollywood experience. Riding the free trolley to the park to a special guest entrance is just one of them!
The resort's stylish design pays tribute to Dolly Parton, creating a warm and welcoming atmosphere. With several room types to choose from, we had no trouble finding the perfect suite for our stay. Plus, Dollywood season passholders even receive a discount on rooms!
For our next visit, we plan to take advantage of some of the resort's fantastic amenities. Highlights include:
A full-service spa to pamper ourselves
Multiple dining options for our meals
Pools and playgrounds for relaxation and entertainment
Complimentary shuttles to the theme park and Splash Country
From our Dreammore Resort experience, we've found that staying here truly maximizes the enjoyment of our Dollywood trip. The kids love the room with bunk beds! Combining the resort's delightful atmosphere, exclusive benefits, and convenient location, it's definitely a top choice for our future visits.
Exploring Dollywood's Splash Country
We absolutely love spending a day at Dollywood's Splash Country water park. The thrilling rides, relaxing lazy river, and family-friendly attractions make it a must-visit destination during the hot summer months.
One of our favorite rides at the park is RiverRush, Tennessee's first water coaster. This exciting ride allows you to use a single or double float, making it a fun experience for solo riders and pairs. If you're seeking something a bit more daring, we recommend trying SwiftWater Run, which is a corkscrew and chute combo slide that can also accommodate single or double floats.
During our visits, we often take advantage of renting a locker to keep our belongings safe while we enjoy the attractions.
Remember though, Dollywood's Splash Country usually closes for the season after Labor Day, so make sure to plan your visit accordingly.
You can definitely enjoy Dollywood's Splash Country in a single day. Our first trip here was just a half day when it wasn't busy (first week of June on a weekday) and we easily did everything. Plan your trip to include a mix of rides, relaxation, and entertainment to make the most of your time at this incredible water park.
Final Thoughts on "Can you do Dollywood in one day?"
We've explored the possibility of experiencing Dollywood in a single day, and it seems that it is indeed doable, and many people do it all the time.
Our strategy should involve planning our day around the most important rides and attractions for our family. Prioritizing rides during less busy times, such as early morning or just before the park closes, can help us avoid long queues and maximize our time at the park.
When visiting the park, we recommend picking a slow day, such as weekdays, and avoiding holidays or weekends, to ensure a more enjoyable experience without the crowds.
However, if we aim to see everything Dollywood has to offer, we might want to consider spending two days at the park, dedicating one day to the shows and the other to the rides.
With a well-planned schedule and strategic approach, we can experience the wonders of Dollywood in just one day. However, if our aim is to engage in every activity, it may be worthwhile to invest in a longer stay.
Happy exploring!
Amanda